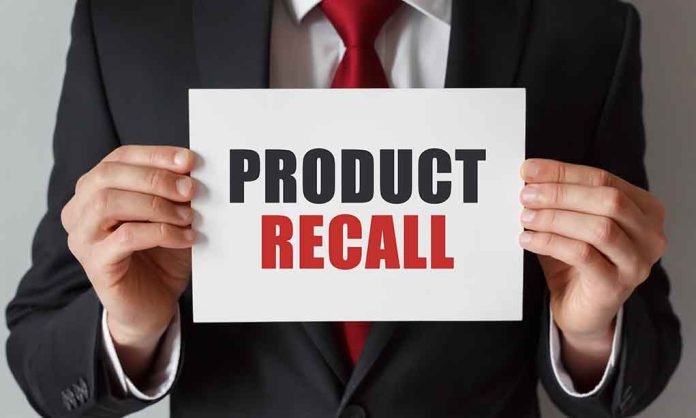 (ConservativeInsider.org) – In February 2022, US families faced an enormous baby formula shortage after officials shut down an Abbott Labs manufacturing plant in Sturgis, Michigan, for three months after investigations revealed ongoing sanitary violations. At the same time, the company recalled many of its formulas for fear of contamination with the bacteria Cronobacter sakazakii, which can cause severe illness and even death in babies. Now, another baby formula is being recalled for similar fears.
On Sunday, February 19, Reckitt announced the recall of two batches of its Enfamil ProSobee 12.9-ounce Simply Plant-Based Infant Formula. The product could have been contaminated with the Cronobacter sakazakii from a third-party product, although the manufacturer reassured customers that "all product distributed went through extensive testing and tested negative for the bacteria." Reckitt Brands has since changed how it sources the material that was contaminated in an attempt to prevent issues like this in the future.
Reckitt is recalling thousands of cans of its plant-based baby formula following contamination with a potentially deadly bacteria, Cronobacter sakazakii. https://t.co/miZzh4MU4J

— NEWSMAX (@NEWSMAX) February 21, 2023
The recall affects approximately 145,000 cans of powdered formula that Reckitt produced from August to September 2022. The cans in question have the batch codes ZL2HZF and ZL2HZZ with an expiration date of March 1, 2024. They have been sold at stores in the United States, Guam, and Puerto Rico. Customers who purchased the product can throw it away or return it to the store for a full refund.
No illnesses have been connected to this recall yet. However, if an infant in your life has ingested this potentially contaminated formula and begins to show signs of sepsis or meningitis, which include irritability, jaundice, and difficulty breathing, head to a hospital immediately.
These recent baby formula recalls have caused many experts to examine the companies that produce the majority of formula in the United States and how to prevent shortages in the future. According to a fact check from WCNC using data from Allied Market Research, the following four companies manage around 90% of the formula in America:
Abbott Nutrition
Nestle USA
Mead Johnson Nutrition
Perrio Company
In the future, a wider variety of options and companies could help prevent shortages. However, breaking into the infant formula industry takes a lot of time, money, and research.
Copyright 2023, ConservativeInsider.org