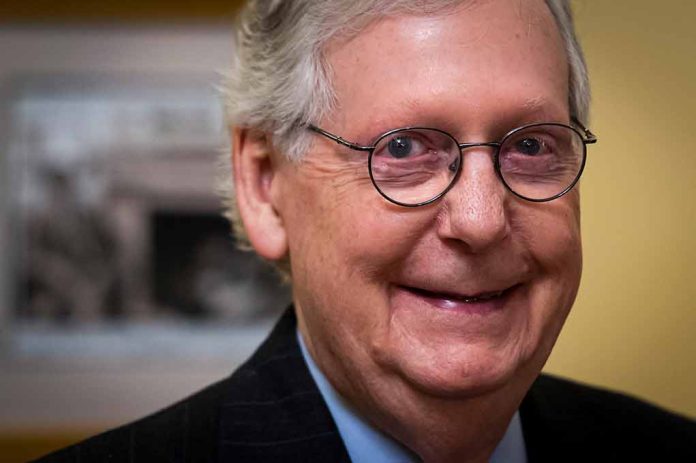 (ConservativeInsider.org) – A recently published poll from Newsweek indicates that 64% of currently eligible voters believe Senate minority leader Mitch McConnell should resign from his position amid growing concerns about his health and mental acuity.
The poll, run by Redfield & Wilton Strategies, surveyed voters of both major parties. Of people who voted for Trump in the 2020 election, 71% said McConnell should resign and 6% said he should remain in his leadership role in the Senate. People who voted for Joe Biden had similar views, with 64% saying he should resign and 9% think he should remain.
At a press conference in late July, McConnell froze mid-sentence for about 20 seconds before aides escorted him away. It was then revealed that the Senator had fallen three times in recent months, only one of which had been previously disclosed to the public.
Senator McConnell has said that he plans to serve the entirety of his six-year term, which will not end until 2027. At the recent Fancy Farm picnic in Kentucky, McConnell declared that it would not be his last time attending the annual event. Fancy Farm attendees noted that Elaine Chao, McConnell's wife and former Secretary of Transportation, had to help McConnell out of his seat during his appearance.
However, many people, including members of McConnell's own party, have begun speaking out about the Senator's failing health. A senior political correspondent from Politico said it's "jarring to see [McConnell's] decline" from the perspective of someone who has reported on him for years.
Some Senators have privately spoken with news outlets, saying that McConnell seems to be "out of it" frequently behind closed doors. One unnamed Senator said he thinks McConnell is "not processing" in meetings. Some have suggested that there are plans underway behind the scenes to establish new leadership within the Senate.
McConnell is the longest-serving Senate leader at 81, a year older than President Joe Biden, who many have also noted failing mental acuity in, as well as a propensity for falls as of late.
Copyright 2023, ConservativeInsider.org