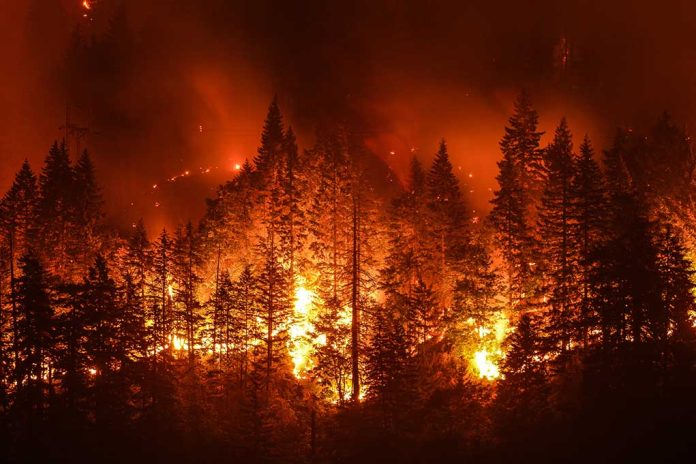 (ConservativeInsider.org) – As warm temperatures only start to appear in various spots across the US, western states are already experiencing devastating wildfires. This has many state and federal officials nervous as water reservoirs are already at historic lows. Yet, the demand for the liquid resource only grows, especially as a new wildfire just hit US soil.
The Tunnel Fire Devastates Arizona
On Sunday, April 17, the Tunnel Fire began in northern Arizona, just outside of Flagstaff. The blaze had burned 6,000 acres by Tuesday evening and 20,511 acres by Thursday morning. As of Thursday, it was 0% contained. Fire crews are using helicopters, planes, bulldozers, fire engines, and plenty of firefighters to try and stop the fire. By midweek, people had evacuated from over 750 homes, and that number continued to grow.
While authorities did not report any casualties by the end of the week, it's still an intense, threatening fire devastating hundreds, soon to be thousands, of homes. However, the implications are further reaching than just burned acreage.
Water Shortages Plague the West as Lake Powell Dries Up
As firefighters are using vast amounts of water to combat the Tunnel Fire, authorities are keeping a close eye on Lake Powell on the Arizona-Utah border. The lake provides drinking water to the surrounding community of Page and power to millions. According to NBC12, local officials may have to cut off the drinking water supply to Page residents if the water level continue to drop.
The EAS EarthObservation group shared a graph of Lake Powell's decreasing water elevation over the past 20 years:
According to a report compiled by @USGS in cooperation with @usbr, #LakePowell's storage capacity has lost nearly 7% of its potential storage capacity from 1963 to 2018, when the diversion tunnels of Glen Canyon Dam closed and the reservoir began to fill. pic.twitter.com/Dy4chfDXnu

— ESA EarthObservation (@ESA_EO) April 11, 2022
If Lake Powell continues to drain, it could also threaten the energy and electricity that the Glen Canyon dam produces to supply other Arizona, Colorado, Nevada, Utah, Wyoming, and other western states. According to NBC12, the water level at the dam is only 35 feet above the minimum it needs in order to produce hydroelectric power. So, after three dozen more feet dry up from the lake, half a dozen states may lose a major source of power.
Wildfires, Water Usage, and Wars
It seems energy supply and consumption is a hot topic in every aspect of news these days, as various factors contribute to both how much energy Americans use and where they choose to get it. Now, as the Tunnel Fire rages on, it's critical that citizens, especially in the western US, take stock of their natural resources and make a plan to ensure they don't run it dry.
Copyright 2022, ConservativeInsider.org