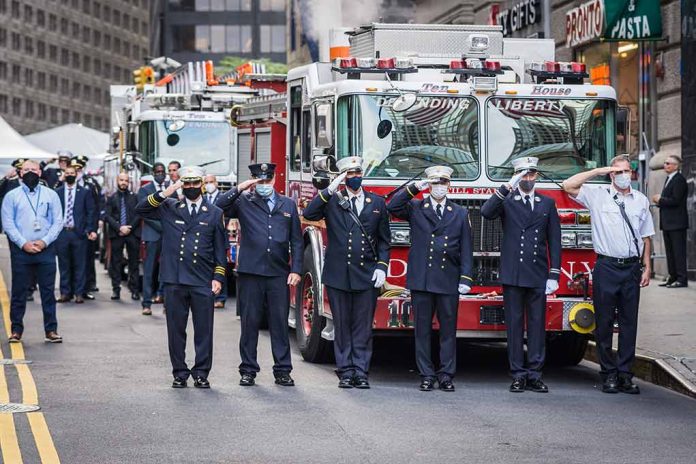 (ConservativeInsider.org) – Twenty-two years after the worst domestic terrorist act to happen on US soil, a grim milestone is about to be reached: the same number of first responders have died from 9/11-related illnesses as first responders who died in the horrific attacks.
According to official figures, 343 New York City firefighters perished on that fateful day in 2001 while bravely trying to save the lives of others.
In the 22 years since the attacks, 341 NYC firefighters, paramedics, and various civilian support staff who assisted in the rescue and cleanup of 9/11 have died from illnesses related to the attacks.
As rescue workers dealt with the smoke and dust that covered New York City following the 9/11 attacks, many had no idea that they were inhaling toxic fumes that would potentially lead to cardiovascular disease, severe respiratory illnesses, and multiple types of cancer. Those who did realize the threat they faced continued to work amid the wreckage anyway.
A long-term study known as the World Trade Center Health Registry has 71,000 people enrolled, seeking to understand the "physical and mental health effects" caused by the tragedy. The Registry includes not just first responders, but also office workers and nearby residents who were evacuated during the attacks, as well as volunteers who assisted in the cleanup efforts.
Michael Barasch, an attorney representing FDNY members afflicted with illnesses after working on 9/11 said the firefighters he represents have developed "every type of cancer you can think of" due to their exposure to the dust, smoke, and chemicals that filled the city after the attacks. Barasch said the dust floating around that first responders were breathing in, and touching had the "pH level of Drano."
According to Barasch, the number one cancer affecting firefighters who were present during the attacks is skin cancer, followed by breast cancer and prostate cancer. He encourages anyone who was present in New York during or shortly after the attacks to get regularly screened for all types of cancer and health issues.
Copyright 2023, ConservativeInsider.org