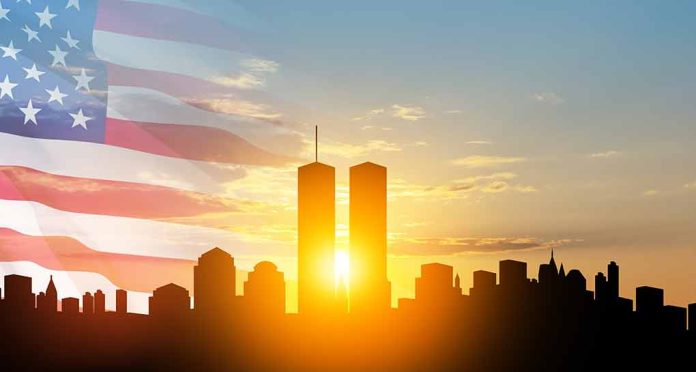 (ConservativeInsider.org) – Over 2,000 first responders, survivors, and relatives of people who perished in the heinous attacks of September 11th, 2001 have signed a letter to President Joe Biden, asking him to oppose any kind of plea deal with the alleged Al Qaeda members who helped orchestrate the atrocity, including "mastermind" Khalid Sheikh Mohammed. The letter to the president comes shortly after the Pentagon sent a letter to 9/11 families saying that the government was considering entering into pre-trial agreements with the alleged 9/11 perpetrators which may take the death penalty off the table.
The letter also urges the Biden Administration to release all evidence that could help "reveal the role" played by Saudi agents in the attacks. The letter suggests that Saudi Arabia was crucial to the 9/11 attacks by providing manpower, resources, financial, and logistical support to Al Qaeda, who claimed responsibility for the attacks. Of the 14 hijackers in the 9/11 attacks, nine of them were from Saudi Arabia.
While presidential candidates were campaigning at the Iowa State Fair recently, members of 9/11 Justice and 9/11 Families United, which represents family members of victims, hosted a press conference at the Iowa Capitol in Des Moines. They are asking candidates to agree, if elected, to have the "courage and guts" to use their power to hold Saudi Arabia responsible for their role in the 9/11 attacks.
Terry Sholty Strada, whose husband was trapped on the 104th floor of one of the Twin Towers during the attacks, said in her capacity as the national chairperson for 9/11 Families United organization that no president or administration has been willing to share "the whole truth" about the attacks due to fears that it will jeopardize diplomatic relations with Saudi Arabia. The Arab Kingdom is one of the largest suppliers of crude oil and petroleum to the United States. Strada said she hopes one of the current presidential candidates will be "a champion" for the families of 9/11 victims who will hold the Saudi government accountable.
Copyright 2023, ConservativeInsider.org