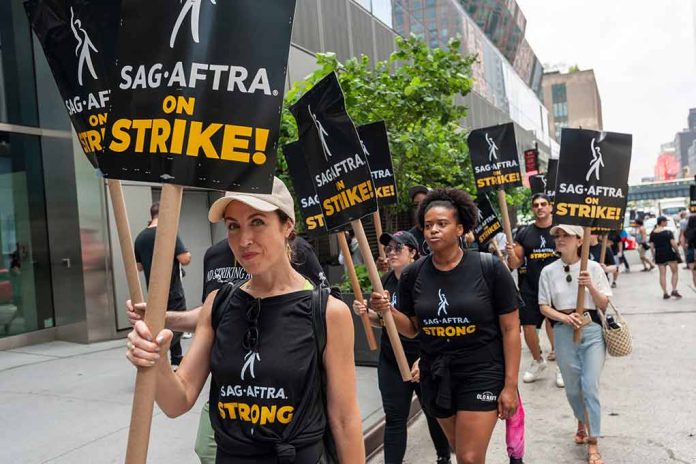 (ConservativeInsider.org) – The WGA (Writers Guild of America) has been striking for a few months now over the use of AI technology as well as about typical union disputes of pay and benefits. SAG-AFTRA (Screen Actors Guild – American Federation of Television and Radio Artists) has recently joined the strike and the last time this happened Ronald Reagan was President.
Writers and actors are seeking what they say is a fair share of the record-breaking profits that studios and streamers are raking in. A-listers from A-to-Z are reaching out on their social media to explain that they are striking, that they support their fellow union members and how the situation can be resolved. There are over 160,000 actors on strike as of July 13, 2023 according to SAG President Fran Drescher.
The picket line extends from Hollywood to New York with celebrities in casual wear holding signs of support. While no actors or writers are creating new content, there are two blockbusters; Barbie and Oppenheimer, coming out as of July 21st, and both unions have indicated that neither going to the movies nor watching Netflix would constitute crossing the proverbial picket line.
A virtual consumer boycott is a novel idea and certainly one that could be utilized should SAG-AFTRA or WGA seek that power. Networks and streaming platforms have hours and hours of content to provide so a consumer boycott will likely be a last resort if resolution is not found soon.
Regardless of how this strike ends, participants hope it will teach studios and executives to consider their tone and message. Strikers say their actions and lack of empathy have turned the WGA strike into a 2-union strike that will cripple projects and cost millions of dollars.
Disney CEO Bob Iger said that union expectations are not realistic. Studio executives are fighting a public relations disaster that portrays them as villains, and it remains to be seen whether this will prod them to change their tone.
Copyright 2023, ConservativeInsider.org