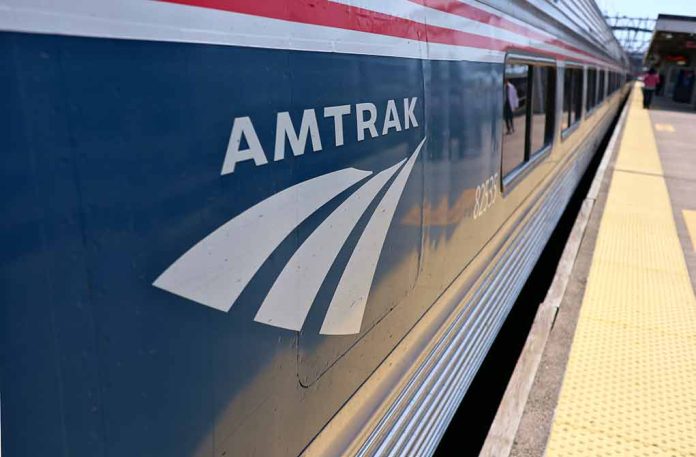 (ConservativeInsider.org) – From the North Pole to the South, Nat Read, now 84 years old, is a well-traveled adventure enthusiast. He's been to all seven continents, but his favorite memories are domestic train rides.
Around four years ago, he was reviewing the train map of the United States and realized he'd traveled nearly all 21,000 miles of the Amtrak system. He set out to travel every mile of Amtrak rail with a relatively short trip from Boston, Massachusetts, to Brunswick, Maine.
Even after days of train riding, he still loves it and considers it his favorite way to travel. He rode the train back home to Los Angeles. In the 1980's he worked in publicity for the high-speed rail project between San Diego and L.A. but his passion for trains began as a child. His earliest memory was traveling home after seeing his father off to WWII, and he was instantly captivated by the adventure and opportunity he saw in trains.
Arriving in Brunswick, Maine, the conductors congratulated him on his achievement, and he felt euphoric. He'll never tire of the rolling vistas out the window, stopping in small towns to deliver loved ones or mountains in the background of beautiful prairies.
In 2022, there were two relatively major derailments of Amtrak passenger trains with some fatalities, but train travel is still considered one of the safest. Train incidents such as one of the two in 2022 occurred when the train struck a dump truck stuck on the tracks. Statistically, train travel is one of the safest and heartily endorsed by Nat Read, who has ridden more rails than most. He's traveled the world but still prefers a train ride from coast to coast. Amtrak touts its affordability as well as options for traveling. From a private room to an economy seat, there is something for everyone.
Copyright 2023, ConservativeInsider.org