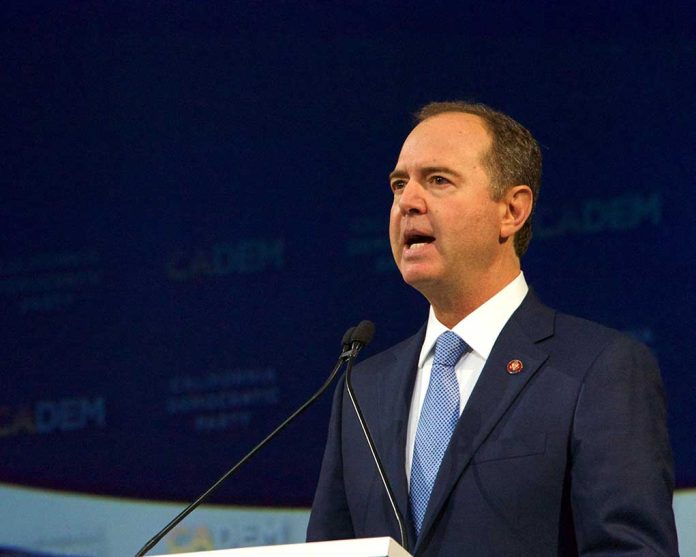 Adam Schiff ADMITS IT – "I Don't Care…"
(ConservativeInsider.org) – No one had ever leaked a complete draft of a US Supreme Court (SCOTUS) opinion before this month. Chief Justice John Roberts Jr. called the leak that let the world know the nation's highest court may overturn Roe v. Wade in the coming months "egregious" soon after it occurred. Despite this substantial breach of trust within the US judicial branch, House Intelligence Committee Chairman Adam Schiff (D-CA) announced that he couldn't care less about the attack on our democracy.
Schiff Ditches Judicial Integrity for Liberal Politics
On Wednesday, May 4, Schiff took to Twitter to call the SCOTUS ruling draft leak a "sideshow" to what is actually happening:
I don't care how the draft leaked. That's a sideshow.

What I care about is that a small number of conservative justices, who lied about their plans to the Senate, intend to deprive millions of women of reproductive care.

Codifying Roe isn't enough. We must expand the court.

— Adam Schiff (@RepAdamSchiff) May 4, 2022
Securing women's right to abortion is a key point of liberal politics, especially now that most other left-leaning policies that President Joe Biden has enacted brought us economic inflation and waves of illegal immigrants. It seems the battle for reproductive rights may be their last hope for gaining traction before the midterms elections.
With his tweet, Schiff shows that he, and likely many fellow Democrats, do not care that the draft leak is undermining trust within the SCOTUS, something essential to the work of the nine justices and their 36 clerks.
Using fear and distraction is a common tactic of Democrats and something that House Representative Eric Swalwell (D-CA) chose to use this week, as well. He played on people's emotions using fake news and took the fight for abortion one step further with the following tweet:
The Republicans won't stop with banning abortion. They want to ban interracial marriage. Do you want to save that? Well, then you should probably vote. https://t.co/MRytdsjUBP

— Rep. Eric Swalwell (@RepSwalwell) May 3, 2022
Between these two lawmakers, it appears that the Left is trying to stir up drama to detract from the serious breach of security. They know if they can distract voters with lies, misdirection and fear they can stir up their voter base, which they hope will lead to better Democrat outcomes in November's midterm elections.
Protecting the Supreme Court's Work
SCOTUS first drafts are just that — first attempts at a ruling that often contain opinions and statements that would never make it to the public eye. They are subject to change in whole or in part. In fact, justices can change how they vote any time before the final decision is announced. Because of the likelihood their words will be misconstrued, justices understandably keep decision drafts under wraps.
By leaking this document, someone severely crippled the stability of our judicial branch and Justice Roberts has called for an investigation into the breach. Hopefully, the perpetrator will be brought to light and the consequences of their actions will be made clear.
Copyright 2022, ConservativeInsider.org