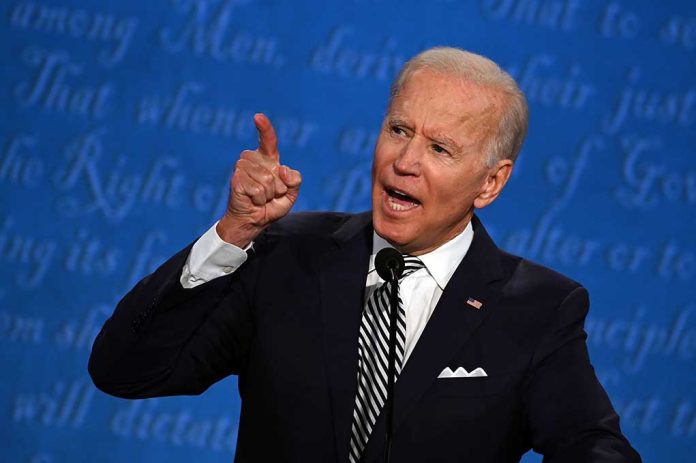 Biden CAVES To Trump – Shocking Order Given!
(ConservativeInsider.org) – When President Biden first took office, he assured Americans he would not build one more inch of the border wall between the United States and Mexico. However, the current administration has now given the green light to redo a historic section of the wall in Friendship Park between San Diego and Tijuana.
On Tuesday, July 5, the Friends of Friendship Park confirmed that Secretary of Homeland Security Alejandro Mayorkas is moving forward to build 60 feet of border wall at the historic park on the international border between the two nations. This park has allowed family members from Mexico to meet with their US-based relatives for decades without a fence in between — something not offered anywhere else.
BIDEN ADMINISTRATION ANNOUNCES PLANS TO FINISH TRUMP BORDER WALL AT FRIENDSHIP PARK

Secretary of Homeland Security Alejandro Mayorkas has approved plans to construct two 30-foot walls across the face of Friendship Park.

Full press release here: https://t.co/5jPAxm7Q3z

1/12 pic.twitter.com/LNok7LzWOF

— Friends of Friendship Park San Diego/Tijuana (@fofpark) July 5, 2022
According to Reverend John Fanestil of The Border Church, plans for the replacement walls currently do not include the pedestrian gate that the previous walls did, likely shuttering this park forever. While the park has not been accessible since February 2020 due to flooding nearby, residents had assumed it would eventually reopen under the same circumstances.
While Customs and Border Patrol (CBP) told KPBS it was simply replacing fences that were no longer structurally sound, Reverend Fanestil called the project a "complete desecration of this historic location." While Biden promised not to build more walls, this choice to build one without a pedestrian door is clearly a major change in border policy, even if it is just being called a replacement.
Copyright 2022, ConservativeInsider.org