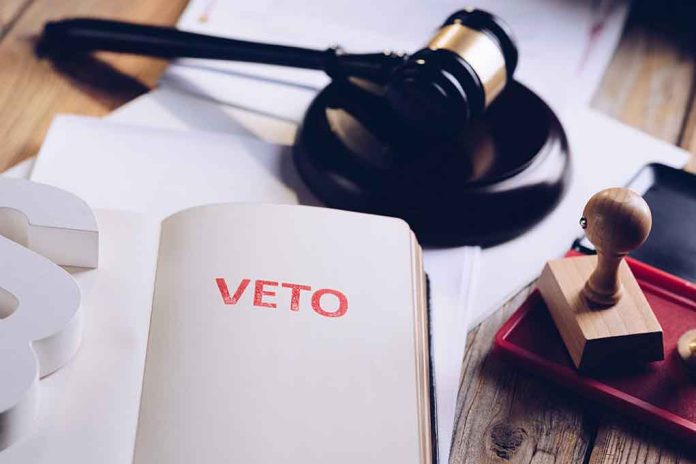 (ConservativeInsider.org) – A new report from the Daily Wire has revealed that President Joe Biden is planning on making use of his veto power to shut down Speaker of the House Kevin McCarthy's debt limit proposal should it make its way through both the House and the Senate, according to details provided by officials within the White House.
A policy statement that was published by the Office of Management and Budget on Tuesday stated that the current administration is dead set against the newly proposed Limit, Save, Grow Act of 2023, which they referred to as an attempt to get what they referred to as "extreme concessions" as a condition for getting the country to pay the bills it has already racked up.
According to Reuters, House Speaker McCarthy revealed his plan last week, which would combine a total of $4.5 trillion in cuts to spending with an increase of $1.5 trillion in the already $31.4 trillion debt limit. Members of the House conducted a vote on the legislation on April 26th and with its passing, extended an invitation for President Biden to chat about the debt ceiling with him.
Not surprisingly, the president rejected the offer from McCarthy, stating the only way he'd meet to discuss the plan is if Republicans put out a 10-year budget proposal.
McCarthy also told reporters at the Capitol building on Tuesday that the bill would be moving forward as it is, despite there having been complaints concerning both the ethanol provisions and the legislation's work requirements. He then informed the media that if something in the bill changes, he would let the press know about it, the Daily Mail said.
Despite Democrats having the upper hand in the Senate, McCarthy went on to say that by the House passing the legislation it would provide them with momentum, noting that the GOP is trying to be fiscally responsible and to bring the "house," no pun intended, back in order. He then pointed out the bill wouldn't solve all the country's issues, but would at least set us on the right path.
Copyright 2023, ConservativeInsider.org