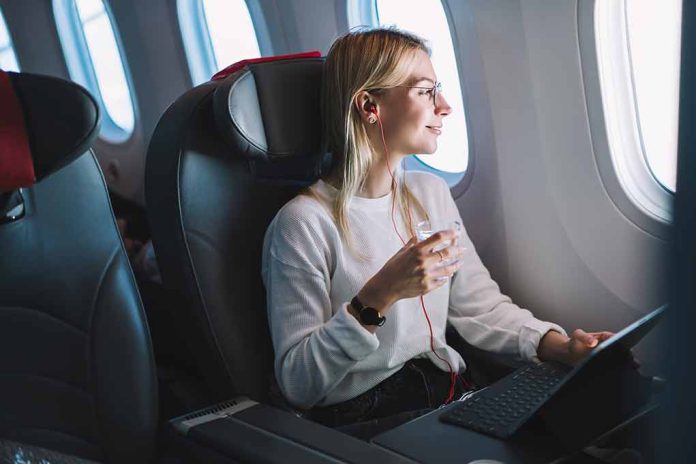 (ConservativeInsider.org) – Turkish-Dutch Corendon Airlines is introducing a new class to their international flights between Amsterdam and Curacao. Starting November 3rd, 2023, a section of the plane will be reserved for adults only. The seating area is intended as a quiet working space for business professionals or others who don't want children's distraction or noise. The airline's press release said they expected customers would welcome the option.
There will be a slight increase in ticket price for these seats, and Corendon will allow persons 16 and over to sit there. They also note that this will alleviate stress for parents who worry about being seated beside someone who doesn't find their babbling toddler adorable.
The adult zone will be separated from the rest of the plane using walls and curtains, aiding a calm and relaxing flight experience. Adult-only areas are not necessarily new, as Mexico and the Caribbean are flush with adult-only resorts and cruises. Parents with kids enjoy a child-free vacation occasionally, and people without kids don't always want to share their holiday with another person's kids. Hence, an adult-only area of a flight seems like a logical progression of the adult-only vacation.
Virgin Voyages is an adults-only cruise ship line founded by Richard Branson. You must be 18 years old to take a Virgin Voyages cruise, and the space typically dedicated to kiddie pools and areas is instead used for more adult amenities.
It's up to the individual traveler to avoid children entirely on their vacation, but with this new class of seating on the Corendon Airlines, it is possible. It is unclear if US domestic carriers will adopt this new option and if it will be as profitable as they might hope. Some travelers see kids are cute and distracting, while others perceive them as menaces that make a 3-hour flight feel much longer.
Copyright 2023, ConservativeInsider.org