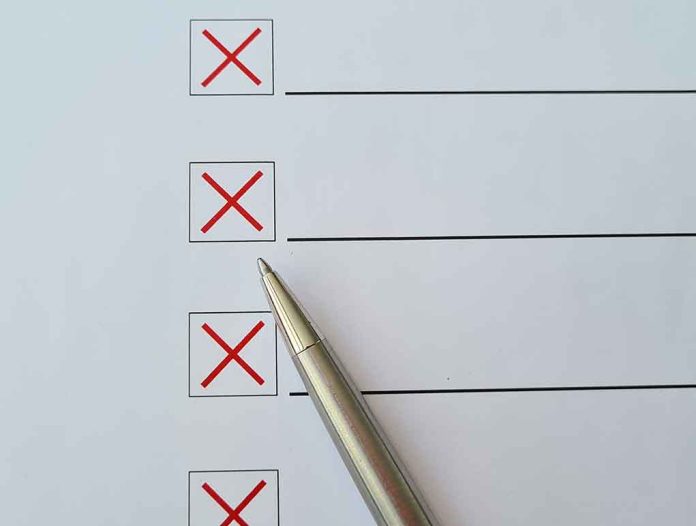 All 9 Republican Congress Members Who Voted To Pass Electoral Reform Are Finished
(ConservativeInsider.org) – Since the 2020 presidential election and the events of January 6, lawmakers have been working to secure future election integrity, so voters have confidence their ballot is counted properly. However, Democrats are also trying to make it more difficult to protest election results through the Presidential Election Reform Act (PERA), which raises the standards needed to object to electoral votes.
On Wednesday, September 21, the US House passed PERA in a 229-203 vote. The nine GOP representatives who voted in favor of the bill are:
Liz Cheney (R-WY), who introduced the bill
Jaime Herrera Beutler (R-WA)
Adam Kinzinger (R-IL)
Tom Rice (R-SC)
Peter Meijer (R-MI)
Fred Upton (R-MI)
Anthony Gonzalez (R-OH)
John Katko (R-NY)
Chris Jacobs (R-NY)
Democrat-controlled House passed the 'Presidential Election Reform Act' by a 229-203 vote on Wednesday: https://t.co/DzZQU5hm8y

— Newsmax (@newsmax) September 22, 2022
Each of the Republicans also voted to impeach President Donald Trump for his role in the January 6 riot. Interestingly, each one has also either chosen not to run for reelection or lost their primary, meaning none of them will have a congressional vote once the newly elected representatives arrive in January 2023.
Senators are currently crafting similar legislation to pass in their house before sending a final bill to President Joe Biden to sign. If such a law is made, it will solidify the vice president's role in certifying an election as strictly ceremonial and raise the percentage of lawmakers needed to object to election results.
Copyright 2022, ConservativeInsider.org