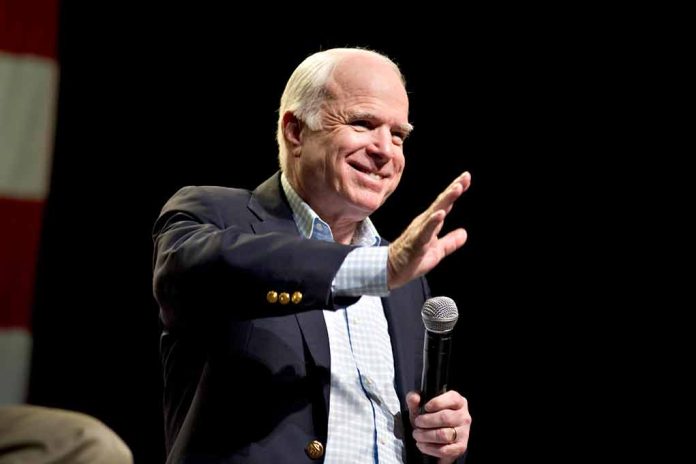 (ConservativeInsider.org) -While visiting Arizona recently, President Joe Biden announced that federal funds will be used to build a library and institute honoring his friend and fellow Senator, the late John McCain. Biden praised McCain's willingness to go against his party on major issues and "put country first."
The McCain Library, as it will be called, is planned as a "multi-purpose facility" meant to help underserved communities in Arizona. It will provide work programs, education, and health monitoring programs to all people in the area.
Cindy McCain, the late Senator's wife and recent ambassador to the U.N. agencies for food and agriculture, introduced President Biden at the event and thanked him for honoring her late husband and promoting the causes he supported. Before the 2020 election, McCain famously endorsed Biden over Trump, which many believe was a large reason why Biden became the first Democrat to win Arizona in the last 27 years. McCain said that while neither she nor her husband agreed with Biden on all the issues and had strong disagreements, they still believed he is a "good and honest man."
John McCain personally requested that Biden speak at his funeral, and after he passed, his remaining family said they did not want Trump to attend. In Biden's eulogy for McCain, he described how McCain lived by a code that valued "honor, courage, integrity, [and] duty."
The Senator's widow said shortly after her husband's death that she had hopes for a library to be built in his honor but was unsure of where funding would come from. Biden secured funding for the library from the $1.9 trillion Covid relief package, known as the American Rescue Plan Act that was passed in 2021. Additional funding will be provided by Arizona State University.
During his speech announcing the library, Biden called McCain a patriot. The president said that even after death, McCain's voice is "never silent," speaking to our "hearts and our conscience."
Copyright 2023, ConservativeInsider.org