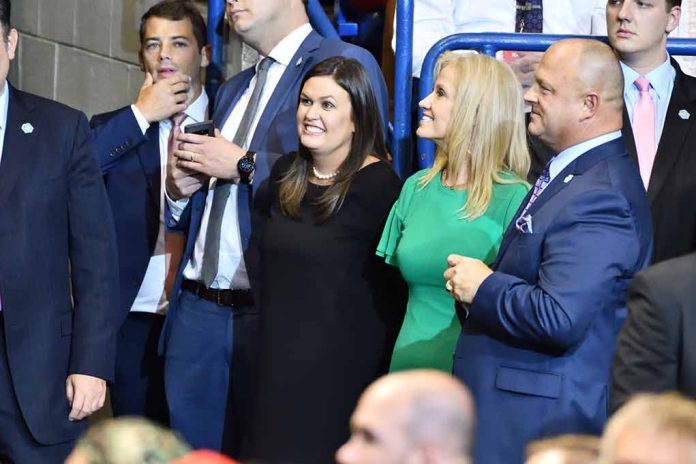 (ConservativeInsider.org) – The governor of Arkansas, Sarah Huckabee Sanders, signed an executive order banning "anti-woman" and "woke" words from the state government. The order signed by Gov. Huckabee Sanders bans terms like "pregnant people" and "menstruator" in favor of calling them what they are: women.
The move comes after pushes from the Biden administration and leftists to replace "exclusive" terms and replace them with "inclusive" words. Despite the fact that only females (typically called women) can give birth, leftists insist on changing terminology to reflect their ideology, which posits that anyone of any gender can give birth or breastfeed (often called "chestfeeding" by leftists). In the Biden administration's 2022 fiscal year budget, the term "birthing person" was used instead of "woman." In their plan for addressing the maternal health crisis in the United States, they used the phrase "pregnant people."
Ironically, as Gov. Huckabee Sanders signed this executive order, the Michigan state Senate voted on a motion to remove the terms "woman" and "she" from an updated version of the Breastfeeding Antidiscrimination Act, replacing them with the term "individual."
Gov. Huckabee Sanders posted on social media simple statements about the reality of sex and chromosomes existing, adding "only women can give birth," which received a lot of pushback and criticism from leftists who suggested the governor doesn't care about women and only cares about the culture war.
The Arkansas Surgeon General, Dr. Kay Chandler, and OB-GYN who was appointed by Gov. Huckabee Sanders in 2023, said she has known since she was a child that only women give birth, and that it shouldn't be a controversial thing to state.
Arkansas is ranked as the state with the highest rate of maternal mortality rates, and third highest in the country for fetal mortality rate. Gov. Huckabee Sanders has signed multiple bills into law addressing maternal and fetal healthcare in the 2023 legislative session. These include the Universal Newborn Screening Act, which increases the list of medical disorders that babies are screened for immediately after birth, and a bill requiring Medicaid to cover depression screenings for pregnant women and mothers.
Copyright 2023, ConservativeInsider.org