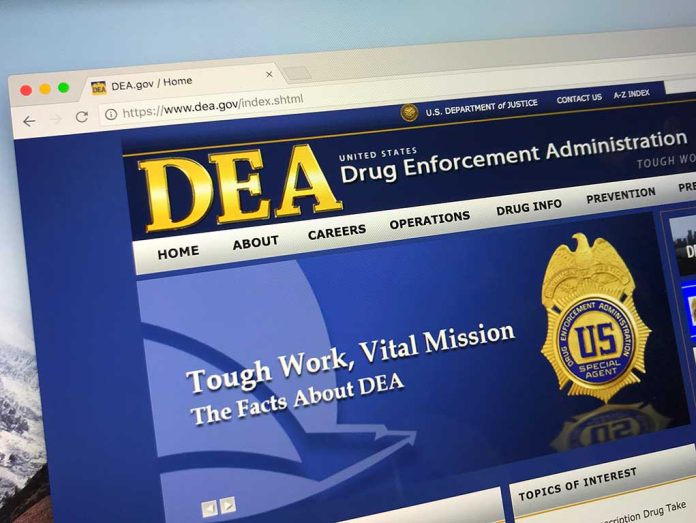 (ConservativeInsider.org) – The insatiable demand for illegal drugs, especially in much of the English-speaking world, has led to organized gangs of criminals to devise ever more ingenious and intricate ways of smuggling those drugs across international borders without being detected. Law enforcement agencies frequently struggle to keep up with the sophisticated techniques and technology employed by the organized crime gangs, and it is estimated that only a relatively small percentage of drugs is apprehended, so it is always welcome to hear of the occasional success.
In one of the largest drug busts so far, teams of law enforcement agencies from New Zealand, Australia and Canada uncovered a billion-dollar scheme to ship three tons of liquid methamphetamine hidden in a consignment of canola oil bound for Australia. The liquid meth had been stowed in almost 200 containers of canola oil.
The officers who initially discovered the consignment covertly replaced the narcotic with a harmless substitute and the shipment was then allowed to enter Australia, where it was tracked to a final destination where police were waiting to arrest the perpetrators. Six men were taken into custody and are currently awaiting trial.
In a separate development, involving members of the same drug syndicate, three-quarters of a ton of liquid meth was found hidden in a consignment of maple syrup bound for New Zealand. This was the largest discovery of liquid meth ever to be apprehended at New Zealand's borders. The consignment was destined for delivery at a business address which was subsequently raided by police and a further six people were arrested.
Andrew Coster, New Zealand Police Commissioner, noted in a press interview that organized crime groups, working together with the international drugs trade, create an immense amount of harm in societies throughout the world. The cost in terms of misery, death, and the destruction of families is incalculable, he said, and the best opportunity for us to disrupt these often highly sophisticated schemes is "for us to work together and collaborate with other agencies and other nations."
Copyright 2023, ConservativeInsider.org