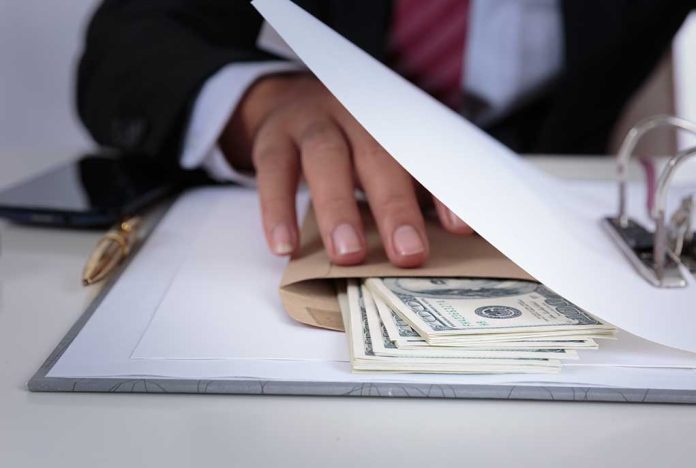 (ConservativeInsider.org) – There are few places in the US where elections have been more contentious or rivalries more bitter than in Arizona in 2020 and 2022 — if only based on the number of lawsuits after each election. Still, in a brand new wrinkle, a state Senate hearing held Thursday, February 23, featured a presentation sponsored by a freshman Republican representative in which the star witness accused dozens of state officials, including lawmakers on both sides of the aisle and new Governor Katie Hobbs, of taking bribes from the Sinaloa Cartel.
In the day-long joint hearing of House and Senate election committees, Rep. Liz Harris (R-Dist. 13) requested and received time before the committees to make a presentation. She turned the time over to the last speaker of the day, Jaqueline Breger, an insurance agent who also claimed to act as the principal investigator for Harris/Thaler Law Corporation, an Encino, California, law firm.
A California-based law firm has accused Arizona Gov. Katie Hobbs of receiving bribes from the Sinaloa cartel.https://t.co/bkArm9zXYZ

— The Post Millennial (@TPostMillennial) February 26, 2023
Breger, reportedly acting on behalf of John H. Thaler, the principal attorney at Harris/Thaler, explained how she and Thaler had discovered a complex scheme through which the Sinaloa Cartel laundered money through single-family home transactions throughout the midwest, which the investigators claim translated into corruption in Arizona to maintain an open border.
Specifically, Breger said she had proof — based on data sets of trust deeds — of cash laundering through the purchase and sale of single-family residences in Arizona. The investigator produced a list of state, county, and local officials who she accused of accepting bribes and participating in racketeering, including Governor Katie Hobbs (D), Sen. Kyrsten Sinema (I), Rep. Ruben Gallego (D), State House Speaker Ben Toma (R-Dist. 27), and Arizona Secretary of State Adrian Fontes (D).
Republicans swiftly reacted to Breger's allegations. Senate President Warren Petersen (R-Dist. 14) issued a written statement, essentially saying the joint session was the wrong place and time to make such claims.
JUST IN Republican Senate President on unvetted bribery claims at elections hearing: "A surprise to the whole committee." pic.twitter.com/b6sobYws6A

— Brahm Resnik (@brahmresnik) February 27, 2023
Speaker Toma blamed Rep. Harris for what he called "disgraceful fringe theater," while other GOP leaders simply referred to the incident as "an embarrassment" and called the allegations "unsubstantiated and defamatory."
On Tuesday, February 28, Hobbs told media outlets she hoped the legislature would hold people accountable for making the state legal body "a laughing stock and Arizona by extension." The governor claimed allowing election deniers a platform to spread undocumented theories overrides caution and responsible action.
Breger failed to provide any hard evidence to support her allegations during her presentation. Additionally, she failed to mention she is romantically involved with Thaler, according to her social media posts. The two women she accused of facilitating the money-laundering and trust deed schemes, as well as other fraudulent acts, are Brittany Rae Chavez, Thaler's ex-wife, and Dawna Rae Chavez, his former mother-in-law. Many of Breger's claims mirrored those Thaler made in a June 2022 lawsuit against his former wife. A district court judge dismissed the suit with prejudice, calling the narrative associated with the action "delusional."
Copyright 2023, ConservativeInsider.org