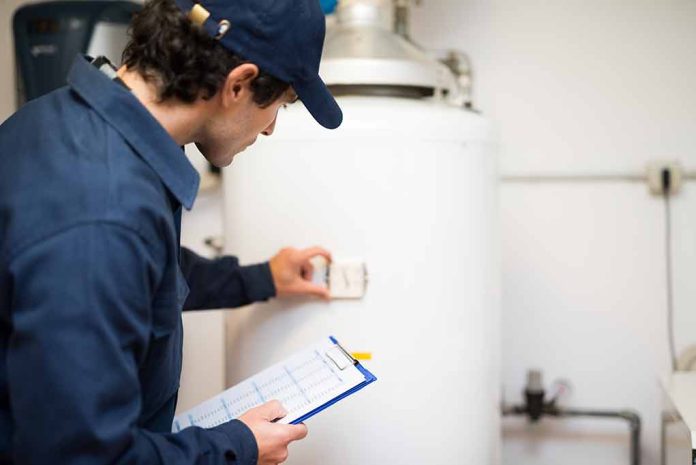 (ConservativeInsider.org) – After going after dryers, dishwashers, natural gas, shower heads, fossil fuels, and gas stoves, President Joe Biden's administration has set their sights on a new target: hot water heaters.
The last time energy efficiency standards were set on water heaters was during President Barack Obama's tenure in 2010. The new regulations would require residential-sized gas-fired water heaters to use condensing technology to increase efficiency gains, and residential-sized electric water heaters to use heat pump technology to increase efficiency. Approximately 23% of annual residential energy usage and consumer utility costs are related to water heating, according to the Department of Energy.
While heat pump technology is more energy-efficient, the upfront purchasing costs are higher, and installation is significantly more expensive. According to some home maintenance websites, heat-pump water heaters can cost nearly $3,000 more than standard models. The Biden Administration's claim is that, while upfront costs are higher, consumers will save money long-term due to lower energy usage.
This may not be true for all consumers, however, as heat pump technology is based on using the heat from the room it is kept in. This means that people in warmer climates might be able to recoup costs within a few months, but people who live in colder climates (and therefore have colder rooms on average) will not be able to recoup the extra upfront expenses for nearly a decade. An average water heater can only be used for 10-15 years before needing to be replaced.
Rep. Thomas Massie (R-KY) has argued that consumers should be the ones ultimately making the decision on what water heater works best for their home, because in some cases, the monthly savings they are supposed to achieve on their energy bill will not come close to the extra cost of the equipment.
Rinnai, a company that makes tankless hot water heaters, declared the regulations "technologically impossible" and would limit what consumers are able to choose to purchase for their own homes.
Copyright 2023, ConservativeInsider.org