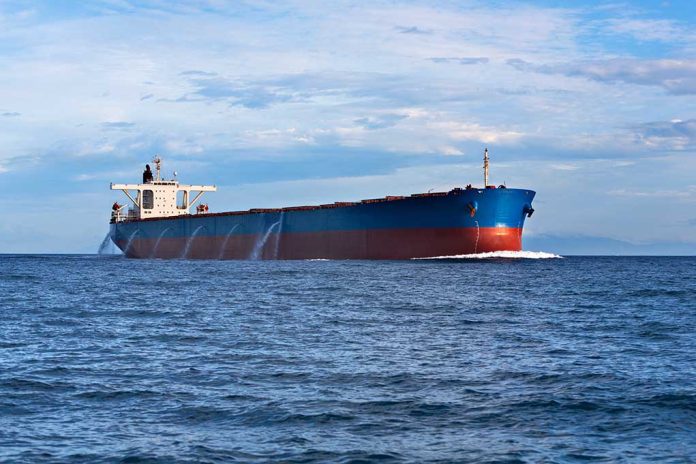 (ConservativeInsider.org) – At the end of March, President Joe Biden announced that the government would release 1 million barrels of oil per day from its strategic reserve for 180 days to help bring down gas prices. After that announcement, gas prices did plateau or decrease for a short while. However, it now seems the White House is sending some of that reserve oil overseas, a move that will likely further increase gas prices in the US.
According to Bloomberg, a tanker carrying crude oil recently departed a port in Nederland, Texas, bound for Rotterdam, the Netherlands. The report details how the ship, named the Advantage Spring, is carrying low-sulfur crude from a reserve in Louisiana. An affiliate of the French energy company TotalEnergies SE is chartering the ship laden with US oil.
One American shared his frustration over this news:
WTF?!?! @JoeBiden

"Suezmax ship Advantage Spring – sailing for Rotterdam, according..compiled by Bloomberg – received emergency SPR* sweet crude from Energy Transfer's Nederland oil facility..4/1 for export"
*#StrategicPetroleumReserves#WakeUpAmerica https://t.co/ljsxdubVjR

— Don Barcome, Jr.🇺🇸Oly⭐️⭐️⭐️ (@dbznd) April 19, 2022
News site ZeroHedge quoted oil analyst Matt Smith, noting that this was "the first export of SPR crude since last November," ensuring it was part of Biden's strategic oil reserve release. While President Biden is likely trying to help Europeans end their reliance on Russian oil with this shipment, it may not play well with US citizens that he's doing it at their expense. Of course, voters can use their voice in the 2022 midterms to reflect just how they feel about this decision from the White House.
Copyright 2022, ConservativeInsider.org