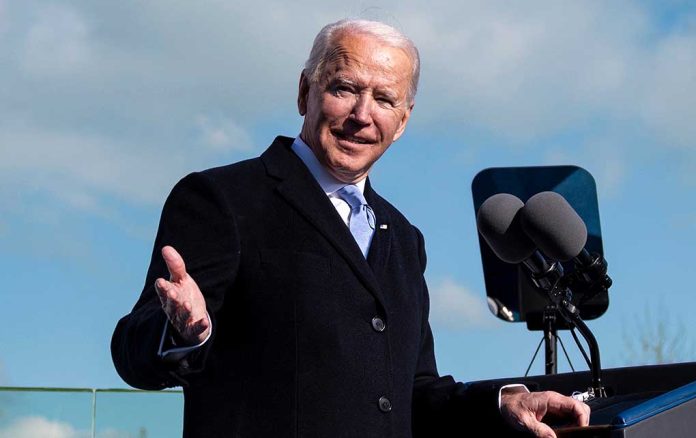 Joe Biden RACIAL Approval Data Released – It May Surprise You.
(ConservativeInsider.org) – President Joe Biden's approval ratings are abysmal. Results from multiple sources show that everyday Americans just aren't happy with the job the commander-in-chief is currently doing. However, one bright spot continues to be his popularity among black voters. Will he manage to maintain that edge?
By the Numbers
According to Sienna College Research, the president's approval rating sits at a paltry 33%. Additionally, his average on polling aggregator FiveThirtyEight, is roughly 37%. Among black voters, however, Biden still holds his own, with 57% approving in a Pew Research poll.
While Biden may seem to have a good showing among black voters, his overall standing in the black community, particularly the Christian community, has taken a serious hit. In February, 65% of black protestants approved of his job performance. That number was down from a staggering 92% the year before, according to Pew. By contrast, white non-evangelical protestants dropped off by only 11 points.
Biden's support among blacks is definitely strong. But, when put under a microscope, it may be that this base is dwindling faster than any other. Hispanics and Asians also approve of Biden more than whites, but as with blacks, their numbers are also fading.
Why Hang On at All?
Star Parker, who runs the Center for Urban Renewal and Education (CURE), wrote an op-ed piece for Town Hall laying out her beliefs, offering some insight into why black voters still cling to the Biden administration at all. She says there's a huge difference between black and white Americans when it comes to how they believe the country functions as a whole.
Parker quoted Gallup numbers suggesting that blacks see America and its institutions as inherently racist in far higher numbers than whites. About 3 in 10 blacks believe they'll get a job they're qualified for, as opposed to more than 6 out of 10 whites. Three-quarters of blacks, as opposed to only half of whites, believe the government should intervene more in everyday life.
It becomes obvious, when looking at the Democrat party's platform of bigger government and seemingly attaching race to nearly everything, why blacks have stayed for so long. The numbers seem to be changing a bit, however, which could lead to a swing in voter momentum. Democrats were shocked when the Hispanic community of South Florida banded together to reject their brand of socialism in 2020. Is it possible there's another tide turning?
The Left is already working to adjust its message on abortion to black Christian voters, as they are more likely to view the practice unfavorably. Perhaps they're trying to avoid a similar reaction to how Cubans in Broward and Dade counties reacted to "socialism." Either way, with the party leader's approval numbers in shambles across virtually every demographic compared to where it was, will the administration bend over backward and promise the world to regain some momentum going into the midterms?
Copyright 2022, ConservativeInsider.org