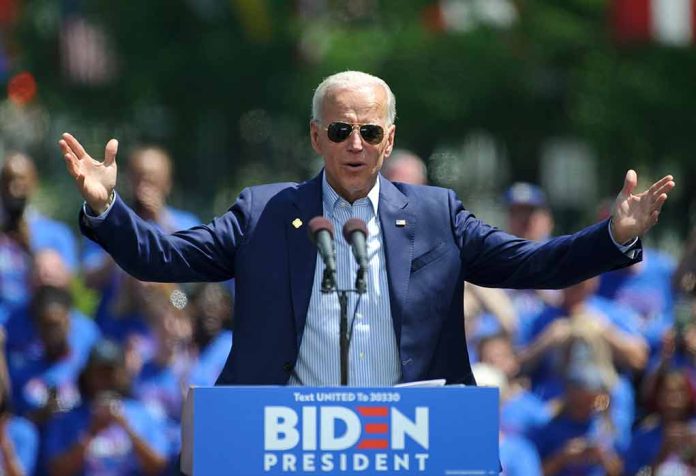 (ConservativeInsider.org) – On his first visit to Maine during his presidency, Joe Biden announced he will be signing an executive order to encourage new inventions and manufacturing in the United States. The order will encourage federal agencies to think about American economic interests and national security when adjusting domestic manufacturing regulations. The executive order will also add more transparency to federal research and development programs in an attempt to reach the administration's goals on domestic manufacturing.
Biden spoke at Auburn Manufacturing Inc., a company that produces heat- and fire-resistant textiles for multiple industries. This includes electricity generating, oil refining, and shipbuilding. Auburn famously challenged China on their trade practices regarding ASF (amorphous silica fabric), a heat-resistant textile.
Even though Biden won three of the four electoral votes in Maine during his election, politicians on both sides of the aisle in the state have been very critical of him. Rep. Jared Golden, a Democrat from Maine's 2nd District, has criticized Biden over his student debt relief program (that has since been overturned by the Supreme Court), as well as how Biden handled the debt limit talks earlier this year. Despite his criticisms of the President, however, Rep. Golden did travel in the Air Force One with Biden while the President was in the state.
While in Maine, President Biden made light of the fact that Republicans are looking to impeach him by suggesting that perhaps they would try to impeach him because inflation is falling. "I'd love that one," Biden quipped. The President did not, however, remark on recent comments by House Speaker Kevin McCarthy, who suggested that there may be an impeachment inquiry into allegations that President Joe Biden committed financial misconduct regarding his son, Hunter Biden.
Karine Jean-Pierre, White House Press Secretary, stated that this executive order is an attempt to create good-paying jobs in the United States, especially manufacturing jobs. Jean-Pierre declined to comment on the President's potential impeachment inquiry, refocusing on Biden's attempts to create more manufacturing jobs for Americans.
Copyright 2023, ConservativeInsider.org