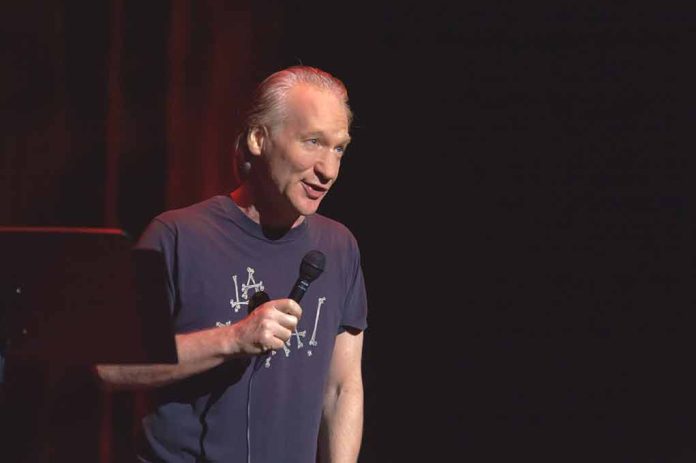 (ConservativeInsider.org) – Bill Maher, longtime liberal comedian and host of HBO's "Real Time With Bill Maher" as well as the "Club Random" podcast, recently lambasted liberal politicians and so-called "sanctuary cities" for how they handle homeless people and migrants.
Maher had Sharon Osborne as a guest on his podcast recently and they discussed how Osborne is moving back to the United Kingdom where they don't have issues of homeless people setting up tent cities in the middle of city blocks. Maher said the way many "woke" cities are dealing with the homelessness problem is by suggesting that the tents they set up in public spaces are their homes, and they should be allowed to stay there, even if it is unhygienic and dangerous for other residents of such cities.
He stated that the response liberals should have to these issues is compassion—compassion enough to get them off the streets. Maher suggested that cities could build or use barracks to house homeless people and migrants without places to live, which would be much more affordable than placing them in hotels, as well as more humane than allowing them to live on the street.
Maher was harsh with how "sanctuary cities" act like they love welcoming homeless people and migrants, but then do not treat them humanely when they arrive. He didn't mince words, telling liberals and politicians from sanctuary cities to "stop pretending" and said they were "full of sh*t" and everyone knows it.
The discussion between Maher and Osborne touched on other issues with liberalism today, such as the fact that colleges are now taken over by the woke and are turning students into Marxists. Maher stated that when he went to Cornell University, he actually learned things, rather than just "nutty woke sh*t" and other "insanity." Osborne stated that she believes colleges are "dangerous" nowadays, to which Maher agreed. Maher said that while he has never been an overly patriotic kind of person, he thinks colleges are teaching students to hate America.
Copyright 2023, ConservativeInsider.org