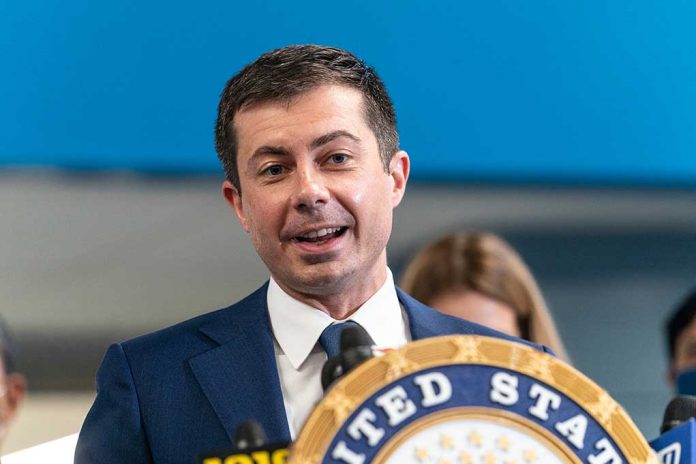 "Mayor Pete" BURSTS Into Laughter After Damning Question
(ConservativeInsider.org) – The mission of the US Department of Transportation (DOT) is to provide Americans with a "safe, efficient, sustainable, and equitable movement of people and goods." With this, reasonable gas prices and minimal delays in commonly-used transit would fall under the responsibility of the DOT. But, when confronted with his department's inability to cool off gas prices, Transportation Secretary Pete Buttigieg simply laughed.
On Tuesday, July 5, Buttigieg met with Fox News host Neil Cavuto to discuss the issues facing the gas and airline industries. During the heated discussion, the "Your World" host pointed out that about 50% of the increase in gas prices Americans are experiencing began before Russian President Vladimir Putin amassed forces on its border with Ukraine. In response, the Transportation Secretary just started laughing and replied, "what about the other half?"
OUT OF TOUCH: Transportation Sec. Pete Buttigieg laughs when confronted about gas prices surging since Biden took office. pic.twitter.com/XPG3Xt7L1i

— RNC Research (@RNCResearch) July 5, 2022
Buttigieg went on to accuse oil company executives of profiting off the sky-high gas prices at the expense of everyday Americans. He said they are refusing to increase production amidst this crisis. However, the former South Bend, Indiana, mayor did eventually acknowledge there's not "any one factor" contributing to the high gas prices and he did not have a clear plan to deal with them.
Between his lack of compassion and action over the high gas prices, as well as the continual cancellations and delays plaguing airlines this season, Buttigieg needs to know that none of this is funny.
Copyright 2022, ConservativeInsider.org