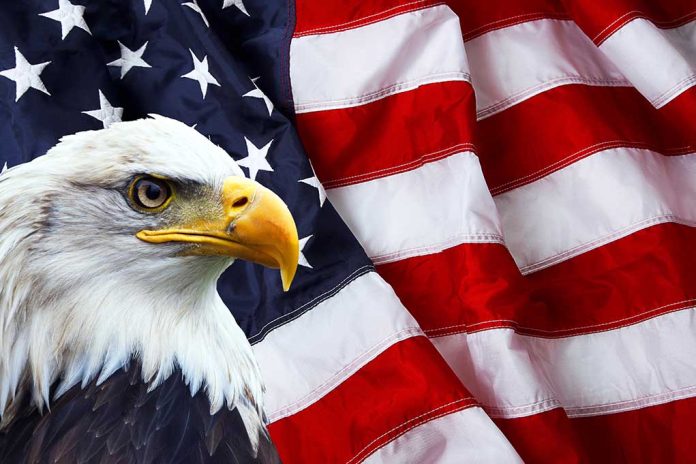 (ConservativeInsider.org) – Progressives were not too happy after seeing a video of customers inside of a restaurant in California standing for the National Anthem went viral on the internet, according to a report from Fox News. The individual who posted the video captioned it by saying it was the "most dangerous situation I've ever been in."
Other folks online said that being in the establishment while The Star-Spangled Banner was playing would be their worst nightmare, calling the display terrifying and comparing it to being in a horror film.
A report from the New York Post revealed the video pulled in 17,000 comments, a huge proportion of them filled with hate and disgust at so many individuals expressing love for their country.
However, the owner of Rainbow Oaks, the establishment in question, Jeanene Paulino, stated that the complaints were nothing more than a desperate cry for attention.
Paulino then said, "I feel like, if we take a few minutes out of our day to be grateful for the men and women who have made the sacrifices so that we can stand up and say how we feel and she said how she felt."
During an interview with "Fox & Friends," Paulino said that she wished the progressives hating on those who stood up for the National Anthem would come to understand that the reason they are able to express their opinions so freely is due to the sacrifices made by those who have fought for those rights.
A report published by the Daily Mail revealed that Rainbow Oaks has been standing and singing our National Anthem every day for six years now. The outlet also revealed that a number of the San Diego news station's viewing audience actually enjoyed the display of patriotism. Others noted how good the food and service at the establishment was.
Paulino said that despite all of the backlash, she's going to keep the tradition going, pointing out that she comes from a family that values patriotism.
Copyright 2023, ConservativeInsider.org