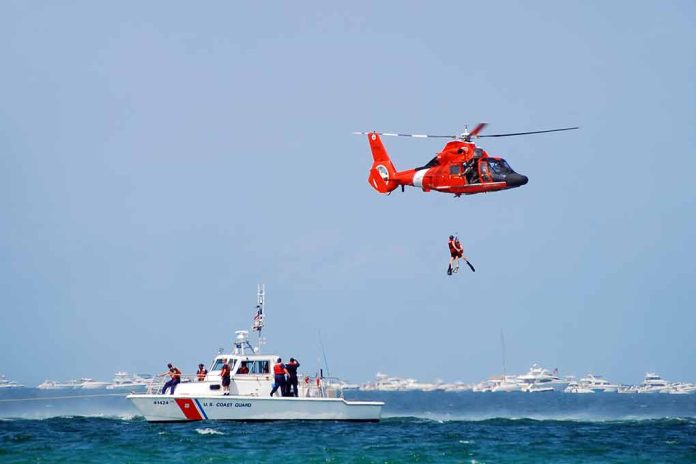 (ConservativeInsider.org) – The U.S. Coast Guard Air Station Savannah lifted off Sunday morning after a 911 call Saturday evening reporting two men who failed to return to the marina as planned. They only had cell phones for communication, and there was no answer. The two men were discovered with their capsized boat about four miles off the coast of Jekyll Island, Georgia. Their 16-foot boat capsized in rough seas, and while they had life vests on board, they lacked emergency supplies such as a radio and flares.
The U.S. Coast Guard is a versatile and nimble branch that rescues distressed boaters, intercepts migrants in water, attends to port safety, and keeps the arctic waterways clear of excess ice. Working with various agencies, they patrol the six-million-square-mile area known as the transit zone that drug traffickers utilize to smuggle drugs into the U.S.
According to the Coast Guard Academy, on a typical day, the Coast Guard will conduct 90 search and rescue cases, seize $21 million in illegal drugs, and monitor 2,557 commercial ships through U.S. ports. The Coast Guard may be the smallest of the military branches in sheer size, but their impact is both meaningful and essential.
Georgia boasts 110 miles of coastline and beautiful beaches, but the crown of the coast are the 15 barrier islands that are virtually unspoiled natural escapes save for some camping and resort destinations. Jekyll Island, once a winter retreat for Rockefellers, Pulitzers, and Vanderbilts, is now a seaside escape for everyone year-round. The island has lodging suited for any vacation, and the Georgia Sea Turtle Center, a hospital for ill and injured sea turtles, makes a great stop to see these majestic creatures up close safely.
The Coast Guard has a solid presence in Georgia, which makes sense when beautiful destinations such as Driftwood Beach on St. Catherines Island, among others, are only reachable by boat.
Copyright 2023, ConservativeInsider.org