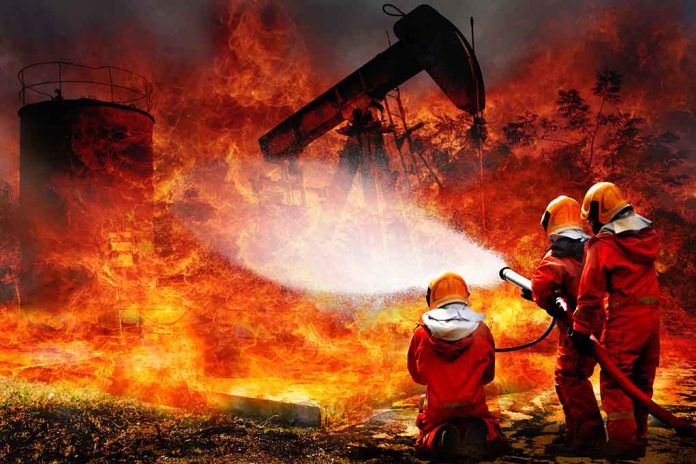 Oil FIRE Disaster – China Uses Shocking Ploy
(ConservativeInsider.org) – On Friday, August 5, lightning struck an oil storage container in Matanzas, Cuba, igniting a fire that burned at the facility for days. It caused multiple explosions and created a massive cloud of dense smog reaching over 65 miles away. China decided to use this event to bolster ties with its fellow communist nation.
VIDEO: Helicopters battle to control a fire in western Cuba that has been raging since late Friday evening and has hit a fourth oil storage facility. The fire began after it was struck by lightning and has killed at least one person and injured more than 100 others. pic.twitter.com/KnMKFgETB1

— AFP News Agency (@AFP) August 10, 2022
To try and control the blaze, Cuba asked the international community for help, a plea China jumped to answer. On Monday, August 8, Chinese Foreign Ministry Spokesperson Wang Wenbin told the world his nation would "stand ready" to provide support for the firefighting efforts, noting the countries "are good friends, good comrades and good brothers."
The US also offered technical "technical consulting" assistance to Cuba. It responded by saying, "We deeply appreciate condolences and expressions of help from various organizations and people in the United States."
By Wednesday, August 10, the fire was contained, and firefighters were able to save four of the eight fuel tanks at the facility.
Authorities in #Cuba have been fighting a raging fire in an oil depot in Matanzas, that displaced 4,744 people and injured over 120.

We have allocated an emergency cash grant of $100K to the @ONU_Cuba for lifesaving relief items. pic.twitter.com/J5vcCZBDbK

— Martin Griffiths (@UNReliefChief) August 11, 2022
Cuba is part of China's Belt and Road Initiative (BRI). Member countries can ask China to fund infrastructure and energy projects through low-interest loans, putting up various assets as collateral. The system has been fraught with scandal in the form of mandated Chinese contractors and inflated bid estimates for projects, often leaving the borrowing nation unable to repay the loans. The agreements also allow the CCP to establish a military presence in member countries.
If Beijing is able to establish a foothold in Cuba like this, barely 100 miles from Florida, how could this affect the United States?
Copyright 2022, ConservativeInsider.org