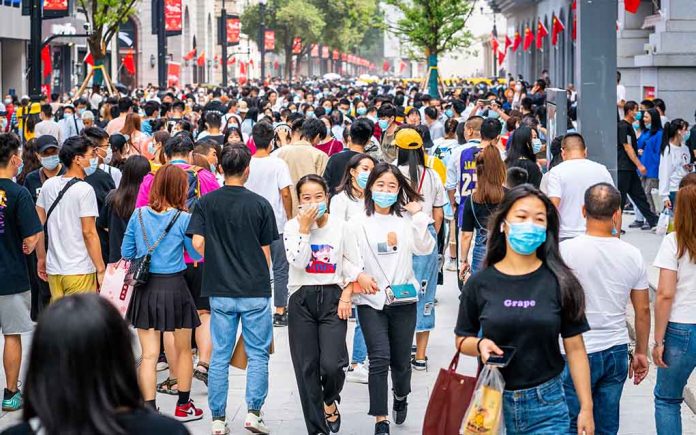 (ConservativeInsider.org) – For over 60 years, the Chinese government claimed its population was growing. However, the culture created by the nation's One Child policy in the 1970s and the growing costs of raising and educating children in its modern world is now bringing this growth to an end. The government announced that for the first time since 1961, its population is shrinking.
On Tuesday, January 17, the Chinese Communist Party (CCP) admitted more people were dying within its borders than were being born. At the end of 2022, China had 1.41175 billion people, which is down from 1.41260 billion at the end of 2021. The nation also is logging its lowest birth rate on record alongside its highest death rate since 1976.
VIDEO: As Chinese authorities report that the country's population shrank last year for the first time in more than six decades, residents of Beijing and Shanghai give their views. pic.twitter.com/dmpWcUoMvV

— AFP News Agency (@AFP) January 17, 2023
This announcement comes as India's population continues to rise and is set to overtake China's later this year. While China removed its One Child policy in 2015, the change has not sparked a large growth in family size. Some local governments are even trying to encourage people to have more children through tax cuts, longer maternity leaves, and housing stipends.
For the global community, this long-expected change could have some far-reaching effects. First, China's population that is willing to work in its factories, which provide cheap goods to the rest of the world, will continue to decline and likely result in increased prices for goods coming from the country.
In addition, there will be fewer young people to care for the country's aging population, leading to many unknowns as to who will fund and feed the nation's elderly. Lastly, there are fewer young Chinese consumers to put their money into companies like Nike and Apple, which rely heavily on these purchasers.
As China faces this enormous challenge, no one knows if it can rise to the occasion and find a way to keep its economy growing despite its declining population. But this gives the rest of the world a chance to fill in the gaps that China's dwindling workforce will create in the coming years.
Copyright 2023, ConservativeInsider.org