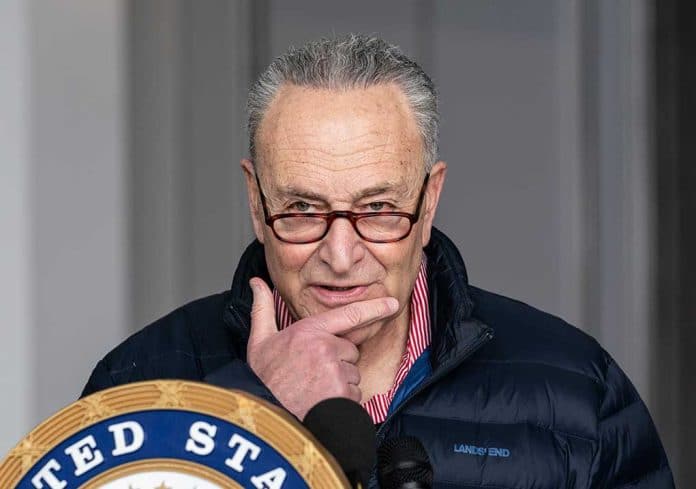 (ConservativeInsider.org) – With the 50-50 party-line split in the Senate, Democrats have been trying to modify or eliminate the filibuster in order to pass their legislation more easily. However, Senators Joe Manchin (D-WV) and Kyrsten Sinema (D-AZ) have held up these plans, expressing opposition to such a move. Senate Majority Leader Chuck Schumer (D-NY) even admitted this week how the rule change could affect America's fundamental government forever.
On Wednesday, January 12, Schumer spoke on MSNBC's "Morning Joe" about his party's attempts to sway Manchin and Sinema to help Democrats get rid of the filibuster. He emphasized how every single Senate Democrat is pressuring the two lawmakers to join their cause. However, Schumer admitted that Manchin and Sinema are counteracting their pushes by saying things like, "we'll lose our democracy" if the Senate eliminates the filibuster.
Schumer has been clear that if the Senate can change the filibuster rules, the Democrats will quickly push through their voting reform bill. This will only make it easier for the Left to accrue votes, further fueling their majority.
One pastor shared part of Schumer's MSNBC interview on Twitter:
Senate Majority Leader Chuck Schumer says he's "having active discussions" w/Kyrsten Sinema (D-AZ) Joe Manchin (D-WV) to persuade them to support filibuster reform

Schumer says Democrats will go with "whichever one works" to pass voting rights legislation pic.twitter.com/VFZKnyGEno

— Pastor A.B. Harris (@pastorabharris) January 10, 2022
Manchin and Sinema have held out against the enormous pressure from other Democrats for quite a while; and hopefully, they'll continue to do so. Only by protecting essential democratic processes like voting and the filibuster can America protect its minorities and its democracy.
Copyright 2022, ConservativeInsider.org