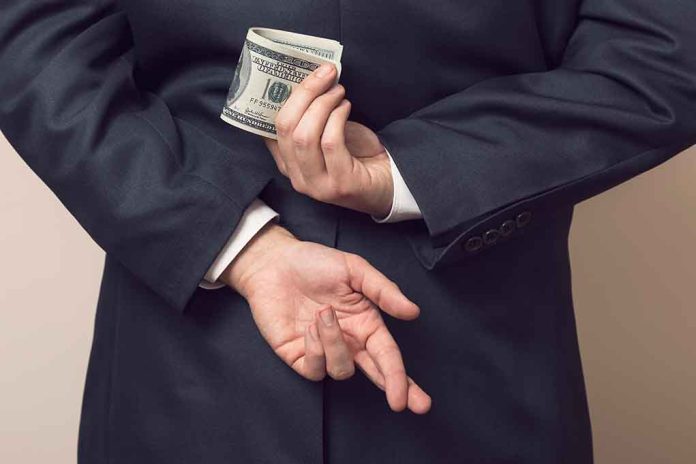 (ConservativeInsider.org) – In 2002, Richard Osthoff was honorably discharged from the US Navy. In the spring of 2016, the disabled vet resided in Howell, New Jersey, in a chicken coop on the side of the road. He owned a pitbull mix named Sapphire, who veterinarians eventually diagnosed with a life-threatening stomach tumor. When someone reached out to allegedly help pay for the expensive surgery to save his dog, Osthoff took him up on the offer.
But, he never saw the money and now believes it is Representative George Santos (R-NY) who swindled him.
According to a report from Patch, a vet tech told Osthoff there was a man named Anthony Devolder in charge of a pet charity who would help him afford the $3,000 surgery to save Sapphire. However, this man is reportedly Santos, who currently represents Long Island in the US House. Devolder is one of the names he used before becoming popular in politics, according to the NY Post.
"We're talking about two of the worst possible things that a man or any woman could do — go after a veteran and a dog," Marine Corps veteran Michael Boll said.https://t.co/2Sy7Hx0IUe

— Stars and Stripes (@starsandstripes) January 19, 2023
Santos allegedly set up a GoFundMe page for Osthoff and his dog that raised the needed money, but that's when the man stopped answering the veteran's calls and never sent the money over to him. No one knows where the over $3,000 went. Santos' charity he allegedly used to raise the funds was called "Friends of Pets United," but according to the New York Times, it was never listed as a nonprofit with the state.
A Union Township police sergeant tried to intervene in the messy situation, but Santos refused to return the money and insisted he used it to help other pets instead. Sapphire eventually died from the tumor.
Disabled Navy veteran Richard Osthoff says Rep. George Santos helped raise thousands of dollars for a cancer treatment for his therapy dog but never came through with the money.

Santos did not respond to NBC News but told Semafor News it is not true.@ryanobles reports. pic.twitter.com/vYWN0M5J5t

— NBC Nightly News with Lester Holt (@NBCNightlyNews) January 19, 2023
Santos told news agency Semafor this story is "fake" and he has "no clue who this is." While the New York Congressman can deny these claims, he already has a history of lying and Americans know they can't trust what he says.
Copyright 2023, ConservativeInsider.org