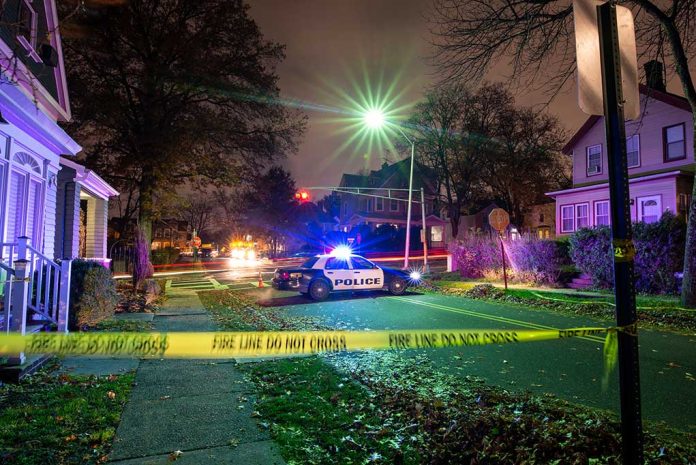 Cop Killer's "Cause of Death" Revealed
(ConservativeInsider.org) – District attorneys (DA) often get to recommend sentencing and probation for criminals in their town. In Los Angeles, citizens are raising concerns about progressive DA George Gascón's recent suggestions in court. It turns out that a criminal who he allowed out on probation last year just shot and killed two local police officers before taking his own life.
On Tuesday, June 14, Justin Flores, 35, shot himself in the head after killing El Monte police officers Michael Paredes and Joseph Santana. The two cops were responding to a domestic incident phone call when Flores murdered them.
A gunman who killed two Southern California police officers died by suicide. Records of the Los Angeles County coroner's office show Saturday that 35-year-old Justin Flores died of a gunshot wound to the head and the manner of death was suicide. https://t.co/8esxqOBSjI

— 23ABC News (@23ABCNews) June 19, 2022
At the time of his death, Flores was on probation after he pleaded guilty to a felony in 2021 for possessing a firearm — for which he spent a total of 20 days behind bars. With this in mind, the mother of Officer Santana spoke out against DA Gascón, noting how his relaxed policies allowed the criminal out onto the streets rather than spending time in prison.
Grieving Mom Olga Garcia Of Murdered LA Cop Joseph Santana (31) BLASTS #WOKE LA DA George Gascon & His Policies-'I blame George Gascón 4 my son's death'-Heartbroken Mum of California Cop shot dead alongside his partner by career criminal Justin Flores…https://t.co/oSpJG4UvqZ

— 66613Skunky13 (@TrueCrimePoli) June 19, 2022
This tragedy has fanned the flame of a movement to recall Gascón.
George Gascon is responsible for Justin Flores being on the streets when he murdered El Monte officers Michael Paredes and Joseph Santana last Tuesday.

We must recall DA George Gascon. We are so close.

Sign and return the petition TODAY: https://t.co/NKtY22obXc pic.twitter.com/PNxC8wm19g

— RecallDAGeorgeGascon (@DAGasconRecall) June 18, 2022
Flores was able to kill these two police officers because he was on probation rather than behind bars with other felons. It seems communities choosing not to be tough on crime may now be facing the consequences of those decisions.
Copyright 2022, ConservativeInsider.org