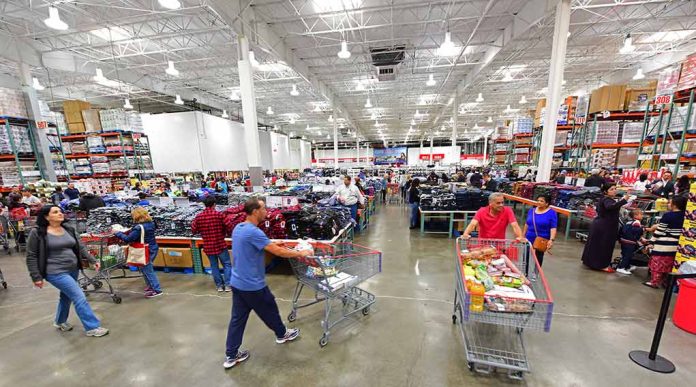 (ConservativeInsider.org) – Retail giant Costco Wholesale claims to rely on membership fees to maintain their everyday low prices but card sharing is coming to an end. Just as Netflix is cracking down on password sharing, the Washington based retail behemoth is starting to confirm that the name on the card matches the person in the self-checkout lane.
The membership in question starts at $60 a year for up to two adults in the household. From reduced gas to lenient return policies most families will make back the membership fee quickly. There is also the Executive membership for a bit more money but you earn 2% back from your purchases. Travel deals, food bargains and purchases of nearly anything are a great deal at Costco.
Many a blogger has touted the benefits and evasive ways to enjoy Costco without paying for membership and Travel + Leisure has done a great job of summarizing those methods.
Further, according to The Krazy Coupon Lady you don't need a membership to visit Costco Optical, Costco Pharmacy and depending on your state you might be allowed to buy some alcohol without a membership card. The Costco food court is also available to all people for a quick and affordable lunch. Utilizing Instacart is also an option to obtain groceries. There is also the matter of price-matching Costco prices at other retailers, an oft-forgotten skill despite the ready availability to confirm prices and request a price match.
CNBC noted that Costco's net sales have risen year over year by about 2% to $52.6 billion for the quarter that ended in May 2023. Costco is trying to balance their product-membership with their employees benefits that are well-known to be more than sufficient, their stock-holders expectations, and a high level of customer service. This is a difficult balance for many companies to attain and hold on to.
Copyright 2023, ConservativeInsider.org