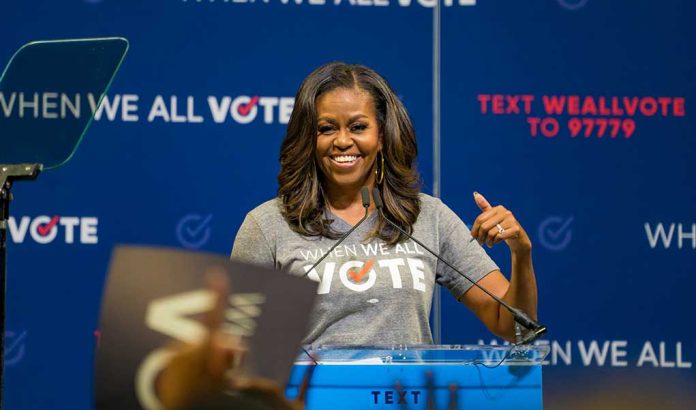 Michelle Obama 2024 Rumors Have Some Legs
(ConservativeInsider.org) – A first-term president almost always runs for a second term, typically uncontested by members of their own party. However, President Joe Biden's abysmal approval ratings paired with his vice president's lackluster job performance have left Democrats with few appealing options for the next presidential race. This led many people to wonder if someone like Michelle Obama would be a legitimate candidate in 2024.
When former President Barack Obama was in office, his wife reimagined the role of first lady, winning over America with her fashion-forward appearance and focus on health and children. However, Michelle Obama tried to keep a healthy separation from the intense politics her husband dealt with, although that gap has seemingly shrunk since they left office. With this strategy, she was even able to top the 2021 YouGov survey of the world's most admired women.
When Conservative Political Action Conference (CPAC) attendees were asked who they think the Democrats will nominate in 2024, they overwhelmingly believed Gavin Newsom would be the choice, with Michelle Obama coming in a strong second place.
Only 8% of #CPAC attendees believe Joe Biden will be the Democratic Nominee for President in 2024. 37% think it will be California Governor Gavin Newsom. #StrawPoll pic.twitter.com/fCDzhq5zHP

— GaysForTrump2024 (@GaysForTrumpUS) August 6, 2022
Michelle Obama would certainly check many Democratic boxes for a good candidate, such as being a well-loved black female. However, news outlet 1945's Senior Defense Editor Harrison Kass points out that the conversation around a potential Obama 2024 run should focus on policy rather than her "widespread appeal and corresponding electability." Yet, she hasn't been super open about what her policies would actually be, most likely because she continues to deny she would ever run for office.
Do you think the Democrats will pressure Michele Obama to run for president, or will someone else be able to rally enough support to be a viable option?
Copyright 2022, ConservativeInsider.org