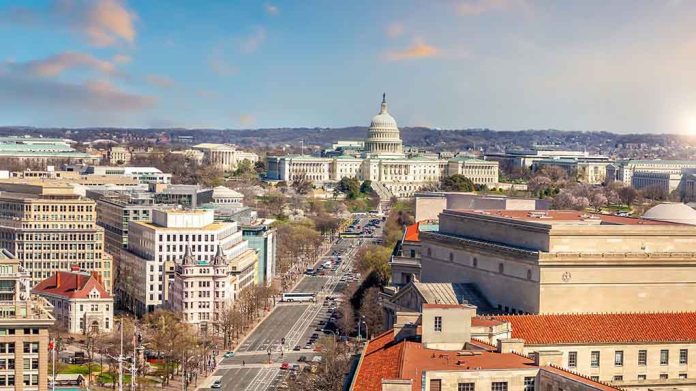 DC Orders Emergency "LOOPHOLE" For Drug Buys
(ConservativeInsider.org) – As states began to legalize marijuana in various forms over the past few years, there has been a quiet battle between recreational shops, medical dispensaries, and even stores that gift shoppers marijuana when they make any other purchase. The District of Columbia is working to navigate this "gray market" by allowing adults to register themselves for medical marijuana without needing a physician's approval.
The Background on DC's Marijuana Laws
DC first legalized recreational marijuana use and possession, but not the sale of it, in 2014, prompting an array of unregulated shops that gift marijuana to customers to pop up throughout the city. For example, someone could choose to buy a DC postcard, typically worth one dollar, for $50 and just happen to get $50 worth of cannabis with their purchase as a free gift.
There are over 40 shops that operate this way in what is now called DC's "gray market." However, when this substance is freely given by these shops, it does not generate taxes or fall under the medical regulations the city hopes it would.
So, lawmakers have previously pushed to close down these gifting shops, although those bills have ultimately failed, the last one coming up short by just one vote in April.
Instead, the DC Council unanimously voted to approve emergency legislation on Tuesday, June 28, that will allow residents 21 years old and above to declare themselves eligible for medical marijuana without a doctor's note. Lawmakers hope this will encourage more people to head to legitimate medical dispensaries than the unregulated gift shops or illegal purchases. In turn, this will generate more revenue for the city and push more people toward the legitimate marijuana businesses in DC.
Medical Marijuana Stores Celebrate the New Law
The seven medical marijuana stores in the district applauded the new law, hoping it will drive business back to them that had been going to the gray market. Lind Green, who owns Anacostia Organics, told DC's WJLA she is "all for it." She outlined that any adult can now show a self-attestation declaring they need the cannabis for a medical reason and she will sell to them. It is important to note that shops do not have to know or ask any specifics about the need. Instead, this new law operates on the honor system.
All of the DC politics surrounding the legalization of marijuana come back to Congress, which continues to restrict the buying and selling of cannabis in the district. So, if the district is ever going to make this cannabis situation less complicated, it will need the green light from Capitol Hill first.
Copyright 2022, ConservativeInsider.org