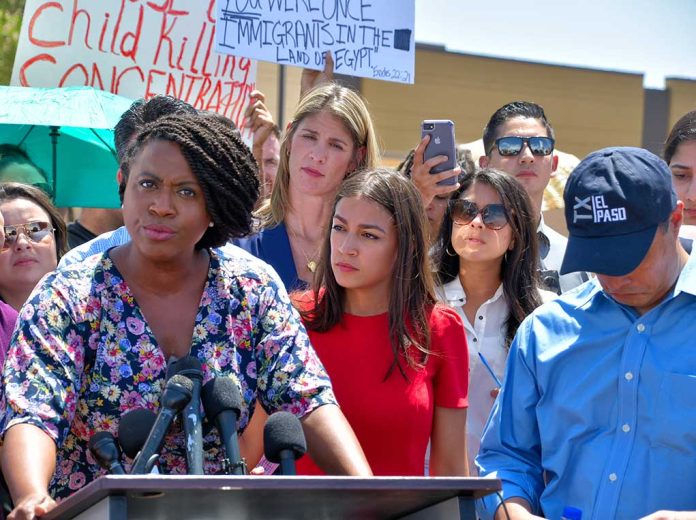 "Squad Member" Secretly SNITCHED To The Cops!
(ConservativeInsider.org) – Congresswoman Rashida Tlaib (D-MI) is one of the biggest proponents for the Defund the Police movement in Washington in recent years. She pushes for bills that would minimize prisons and police departments and, instead, funnel that money towards community resources. However, it seems this Squad member is more than happy to work with the police when the issue is literally in her backyard.
On Sunday, August 21, police officers were responding to an alleged kidnapping when they tried to stop the SUV the potential criminals were fleeing in. After their first maneuver was unsuccessful, a high-speed chase ensued, ending in a crash. However, the driver and passenger were not in the car when police arrived. A manhunt then began.
According to Fox 2 Detroit, as neighbors began talking about the ongoing search, one reached out to Congresswoman Tlaib, who then checked her backyard monitoring system. She saw a man hiding in her trashcan and told her neighbor, who reported it to the police.
Rashida Tlaib called for an end to policing and incarceration, claiming America's police force condones "government-funded murder."

That didn't stop her from snitching to police when someone fleeing the cops hid in her trash can.

Via @AndrewStilesUSA https://t.co/pn5AuFJ2SV

— Washington Free Beacon (@FreeBeacon) August 26, 2022
With this incident, Tlaib showed she is willing to secretly communicate with police, although she still may not be willing to call them herself. In addition, she did aid her neighborhood officers in capturing an alleged criminal, something her far-left peers in Congress may not be too happy about, given their push to keep people out of prison.
Copyright 2022, ConservativeInsider.org