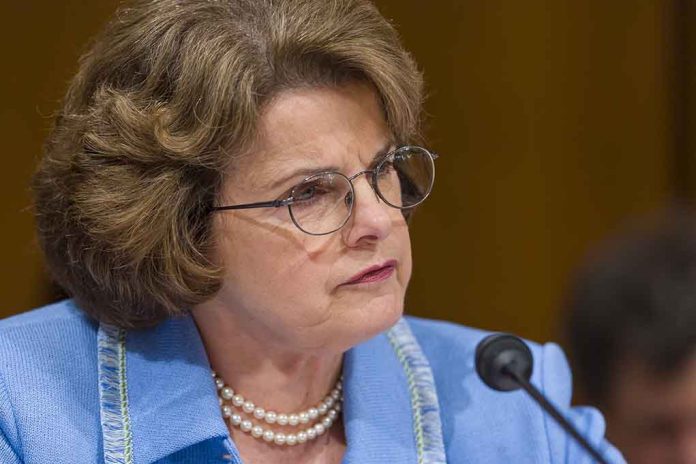 (ConservativeInsider.org) – With such a close majority in the US Senate, Democrats across the country are putting their campaign strategies together to keep their seats in the next election. While some incumbents have already announced they are running, in some cases, new lawmakers will have to rise up to fill the spots. In California, many are wondering if Dianne Feinstein (D), the longest-serving senator still in the upper chamber, will run again. While responding to their inquiries, she has shared multiple conflicting answers.
On January 26, the news outlet Raw Story shared that Senator Feinstein had told them in an exclusive interview she needs "a little bit of time" to decide whether or not she will run another campaign. She put that vague statement into context by saying it won't happen "this year."
Just days later, though, Feinstein told Bloomberg News Americans will "be hearing, soon" about another run but "not in the winter."
🔴 Senator Dianne Feinstein Contradicts Herself on Timing of 2024 Announcementhttps://t.co/nJafiu3msC

— Resist the Mainstream (@ResisttheMS) January 31, 2023
This back and forth comes as some are questioning whether the senator is mentally fit to continue serving in her seat. Journalist Rebecca Traister spoke with the California lawmaker back in 2022 and wrote in her article titled "Dianne Feinstein, the Institutionalist" that there was not any "deterioration beyond what would be normal for a person her age" but instead, a "sunny imperviousness" to the issues facing America today.
A few months after that article was published, the San Francisco Chronicle shared how others on Capitol Hill were questioning the mental clarity of Feinstein after they had to introduce themselves to her a few times during an hours-long meeting. The undisclosed lawmaker also said Feinstein returned to the same topic multiple times during their interactions.
As the potential for a vacancy in Feinstein's seat grows, other California Democrats are throwing their hats in the ring, including Representatives Katie Porter and Adam Schiff. To keep their thin majority, Democrats would need to keep Feinstein's spot blue whether she runs again or not.
Copyright 2023, ConservativeInsider.org