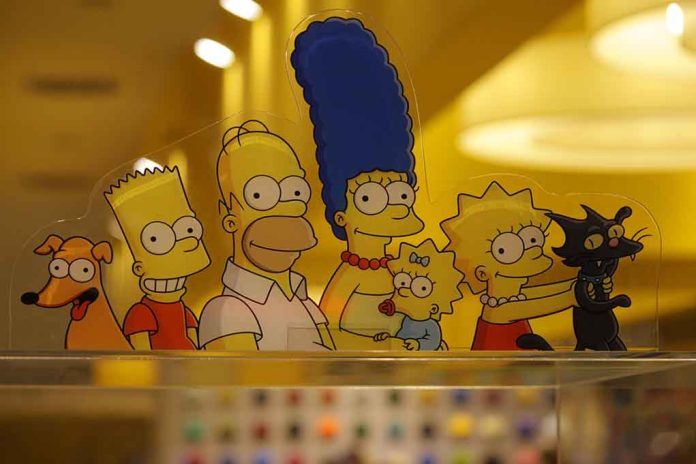 (ConservativeInsider.org) – Most people know the Chinese Communist Party (CCP) has far-reaching restrictions on what it allows in its nation. From stopping families from having more than one child for decades to limiting access to internet content promoting free speech and democracy, the CCP is quite strict in its governing. A recent incident of this can be seen on the Disney+ streaming platform, where one episode of "The Simpsons" is now missing from the lineup.
The Financial Times first learned on Monday, February 6, that Disney dropped "The Simpsons" episode "One Angry Lisa" from its platform in China. In the show, Marge Simpson is participating in an exercise group where the screen on her bike is showing views of the Great Wall of China. The leader of the class then sassily describes the "wonders of China" as "Bitcoin mines" and "forced labor camps where children make smartphones."
Disney+ did not allow the episode to air in China, as doing so would go against a 2020 national security law that limits free speech in the nation.
Disney deleted a Simpsons episode that mentions Chinese labor camps from Hong Kong's Disney+ to avoid offending China. https://t.co/n31Nyz25S3

— Clay Travis (@ClayTravis) February 7, 2023
This is just one of the multitude of human rights issues stemming from China and its dictatorship. The US Department of State estimates there are around 1,200 internment camps set up by the CCP in its Xinjiang region, holding over a million Muslims. These camps are meant "to erase ethnic and religious identities under the pretext of 'vocational training.'"
These growing controversies come as tensions between China and the US grow. The CCP is becoming more aggressive in the Taiwan Strait as it threatens to take the island back under its control. China is also one of the few nations still working with Russia as it continues its war in Ukraine. It seems for now, though, Disney will abide by Chinese rules to continue pulling profits from the communist nation.
Copyright 2023, ConservativeInsider.org