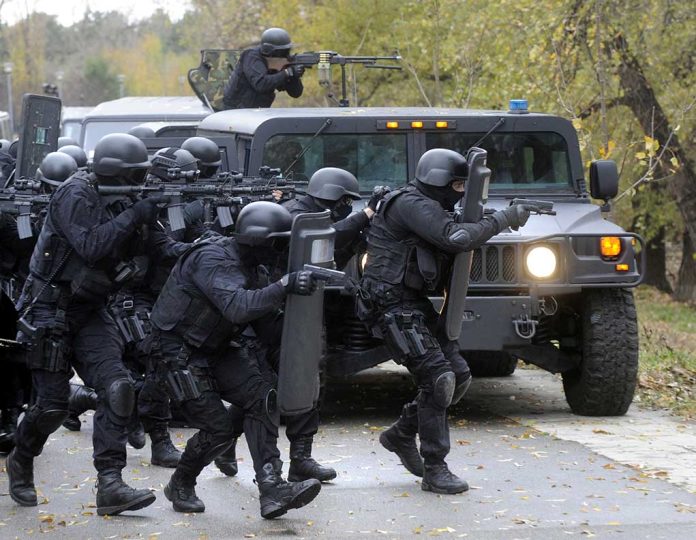 (ConservativeInsider.org) – Over two dozen police officers were injured last weekend after violence broke out at the Eritrean cultural festival in the town of Giessen in the western state of Hessen in Germany, CNN reported.
Police reported "massive attacks" against officers last Saturday morning by groups of protesters attempting to break into the event site by throwing objects at police, including rocks and bottles, and setting off smoke bombs. Cars in the area were damaged and "severe traffic problems" also occurred, the Hessen police said in a statement.
Officers at the scene were forced to use batons and pepper spray to control the crowd.
According to German news outlets, the Eritrean festival also experience similar unrest last year due to the belief that the festival organizers have links to the Eritrean regime.
In recent years, thousands of Eritreans have escaped to Europe alleging abuse by the current regime. In Germany, Eritreans form one of the largest groups of migrants from Africa who have settled in the EU.
The annual festival is organized by the Central Council for Eritreans, a group in Germany that is widely believed to have close ties to the Eritrean embassy, according to the BBC.
According to several human rights organizations, the current Eritrean regime has a documented history of large-scale abuse, including forced labor, forced military conscription, and strict censorship, the BBC reported.
To avoid unrest, the town of Giessen attempted to ban the festival from taking place this year. However, the ban was overturned in court.
To prepare for potential unrest, Hessen police said it had deployed about 1,000 officers to the event.
According to Hessen police, the number of people injured or detained during Saturday's unrest was still not clear. But around 60 people were detained the night before the festival on suspicion of planning an attack on last Saturday's event.
Copyright 2023, ConservativeInsider.org