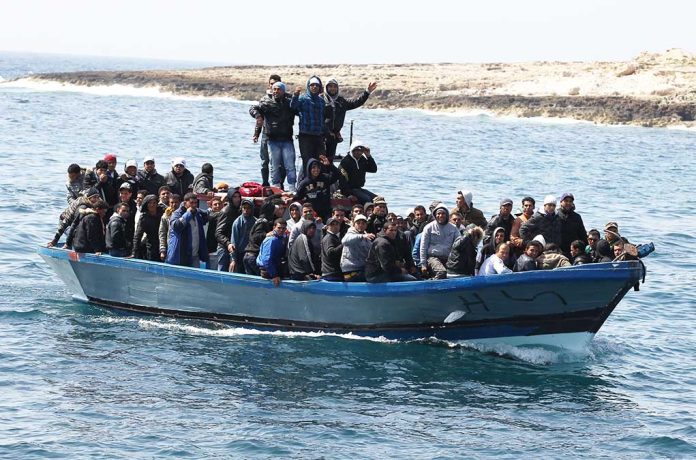 (ConservativeInsider.org) – Forty-one people have reportedly died after a boat smuggling migrants from Tunisia capsized just a few hours after leaving.
The numbers come from the accounts of four survivors, who were able to reach the island of Lampedusa in Italy. They told rescuers that the vessel they were on had 45 people in it, three of them children. The survivors were initially found by a cargo ship, which then transferred them over to the custody of the Italian coast guard.
The city of Sfax in Tunisia is a popular gateway for migrants to seek smugglers to ferry them over to the European Union, with migrants seeking out Lampedusa in particular, which is the closest Italian and EU territory to Africa. The area where smuggling boats usually pass has seen more than its fair share of incidents that have resulted in the deaths of many refugees. Recently, the Italian coastguard told news outlets that they rescued 57 people from two shipwrecks off the coast of Lampedusa, where two people have died and an estimated 30 more individuals have yet to be found. Another shipwreck in Lampedusa also left 34 migrants stranded on a cliff in the area who had to be airlifted to be rescued.
Tensions in Tunisia have caused migrant smuggling numbers to swell, which have also resulted in more deaths as refugees brave the dangerous crossing to EU territory, with conditions exacerbated by unsafe vessels and unsafe practices used by migrant smugglers. According to the International Organization for Migration, 1,895 people have died or gone missing this year alone while in transit from northern Africa and across the central Mediterranean.
Due to its geographical proximity to Africa, Italy in particular has seen large numbers of migrants flood the country, which has put a strain on the country's resources. A few months ago, Italian Prime Minister Giorgia Meloni called on fellow EU nations to help curb migrant smuggling. The remarks were sparked by yet another shipwreck on Italy's southern coast, which saw at least 65 people killed. Authorities arrested three suspected human traffickers, who reportedly crammed as many as 200 people into the small boat.
Copyright 2023, ConservativeInsider.org