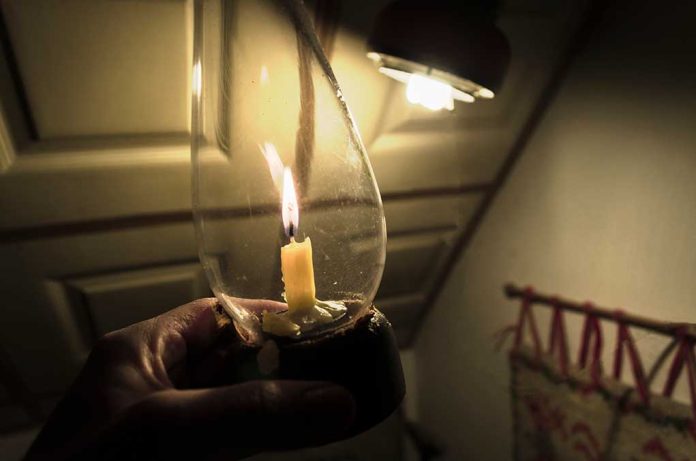 (ConservativeInsider.org) – Over a quarter million homes and businesses were still without power on August 8th, 2023 after powerful thunderstorms and weather attacked the east coast from Alabama to New England. At the storm's peak, over a million people were without power. Torrential rainfall, lightning, and winds caused untold damage and have delayed or canceled more than 10,000 flights.
Golf-ball-sized hail covered the mid-Atlantic region and was paired with flash flooding in Baltimore. Widespread power outages covered the eastern seaboard; inland, nearly 30 million people were under tornado watches at one point during the week.
Meteorologist Bob Van Dillen noted that this storm was unusually powerful and typically something you would see in the springtime. He further emphasized that tornado damage could be expected from upstate New York and extend to West Virginia, Virginia, Kentucky, and North Carolina.
Moving west severe weather could hit portions of Colorado, Nebraska, and Kansas. Turbulent, unpredictable weather is expected for the remainder of the week, and officials tell travelers to plan, have patience, and focus on safety.
These power outages come at an inopportune time as the heat continues, wildfires rage across forests, and humidity is not cleared even by extreme winds. Heat-related suffering is an ongoing battle, as many states see unprecedented heat streaks. The CDC tracks heat-related suffering and hospitalizations and does indicate that this year has had more severe cases than others.
Texas, Arizona, and the southern Gulf states have suffered heat waves over 100 degrees consecutively without reprieve. Add in the loss of power, the loss of the ability to cool oneself in the sweltering heat, and those vulnerable become more vulnerable to further suffering.
Experts do optimistically predict that the storms will abate after this weekend and many areas will begin to cool down, approaching the autumn season soon.
Copyright 2023, ConservativeInsider.org