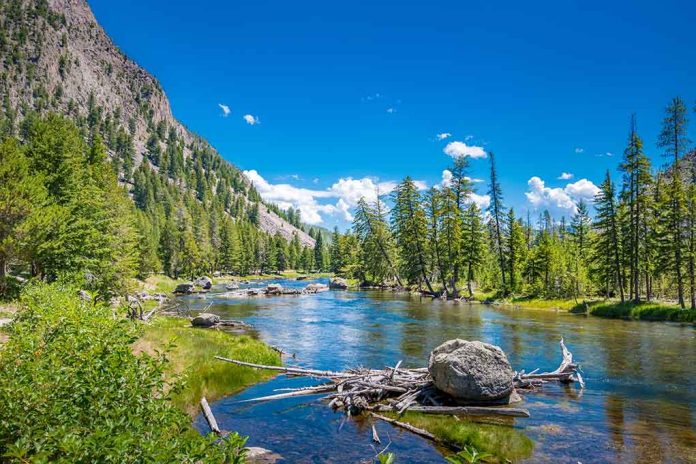 (ConservativeInsider.org) – About two months after a train derailed in East Palestine, Ohio, and dumped a huge amount of toxic chemicals into the town and surrounding waterways, another major train derailment occurred. This time, it took place in a beautiful mountain town in Montana beside the Clark Fork River, dumping cargo into the water and blocking off the tunnel in which it was traveling.
On Sunday, April 2, 25 cars on a train derailed near Quinn's Hot Springs Resort in Paradise, Montana. Many of them spilled their cargo, which included powdered clay and cases of Blue Moon and Coors Light beer, into the river below. One car was carrying butane, a flammable gas, but none leaked out.
🚨#BREAKING: A Freight train has derailed in northwest Montana

A freight train has derailed in Paradise Montana with officials are reporting that at least 25 cars have derailed spilling unconfirmed contents no one was injured pic.twitter.com/Dhu2CUAnsi

— R A W S A L E R T S (@rawsalerts) April 2, 2023
Some locals in boats floated over to the wreckage, helping themselves to some of the beverage bottles and cans. Authorities set up a boom to block the train's contents from flowing down the river, which could include some diesel from the refrigerated cars that came off the tracks. When responders first arrived at the scene, they were concerned an explosion would ensue as they thought they saw smoke rising from the train. However, upon further inspection, it was just wind blowing powdered clay around the air.
To clean up this large accident, crews can only use boats on the river or trucks driving on the blocked railroad tracks. This will complicate and lengthen the cleanup time. Authorities have not yet released the cause of the incident.
Quinn's General Manager Denise Moreth told the Missoulian her workers described the accident as a "loud, rumbling crash" although one guest apparently slept right through it. The resort evacuated its 17 cabins along the river to ensure the safety of its guests. While authorities have not cited any health concerns, they are using an air monitor to assess the situation and ensure resident safety moving forward.
Copyright 2023, ConservativeInsider.org