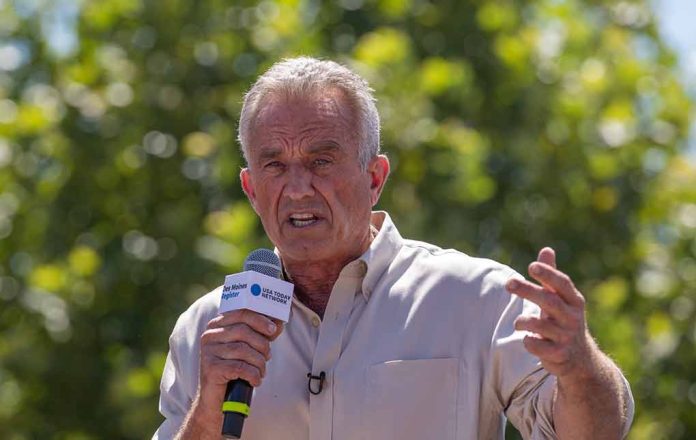 (ConservativeInsider.org) – Eric Clapton is a Rock and Roll Hall of Famer and a critic of vaccines after a bad reaction following a COVID-19 vaccine. Robert F. Kennedy Jr. is also a critic of mandatory vaccines. Clapton supported Kennedy by entertaining and hosting a fundraising effort for Kennedy in Brentwood, Calif.
Brentwood is known as a very exclusive area that is not affordable to most Americans. Ticket prices for the event began at $3,300, and if you wanted to meet candidate Kennedy, the ticket cost over $6,000.
Kennedy raised $2.2 million at this fundraiser but still trails Biden in fundraising and polling. Biden has raised $72 million for his reelection bid, while Kennedy's PAC is reporting $16 million in funds raised as of the end of July 2023.
Research is unclear if celebrity endorsements translate to election success. Celebrities may find more popularity in using their platform to provide fundraising efforts and encourage people to vote. Still, overwhelmingly, a celebrity endorsement of a candidate does not equate to votes. Republicans and conservatives previously would lament that celebrities should stay out of politics, but then 2016 happened, and a reality show host with no political experience was elected president.
Founded in 1990 and now a trusted non-profit, Rock the Vote is a bi-partisan organization founded by MTV and music executives working to educate young people regarding censorship, freedom, and how to vote for their interests and beliefs. Rock the Vote educates and registers young voters. Rock the Vote contends that by 2024, Millennials and Gen Z will account for 44% of American voters. Rock the Vote provides an outlet for Athletes, Celebrities, Brands, and others who want to encourage people to vote. Rock the Vote is not about telling people how to vote; it's about educating others with facts so they can vote how they want.
Copyright 2023, ConservativeInsider.org