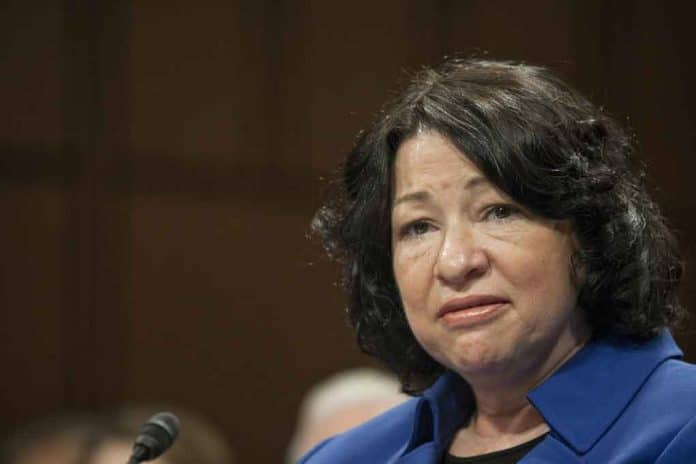 (ConservativeInsider.org) – Many Americans know some politicians often exaggerate facts and make outlandish statements for attention. At the same time, US citizens rightfully expect justices on the Supreme Court (SCOTUS) to refrain from such activities and focus on clear facts when speaking publicly. So, when Obama-appointed Justice Sonia Sotomayor began spewing misinformation about COVID-19 during oral arguments last week, America's fact-checkers had a hay day.
On Friday, January 7, during oral arguments over Biden's vaccine mandate forcing private employers to ensure their employees receive the coronavirus vaccine, Sotomayor claimed over 100,000 US children are currently in the hospital, sick with coronavirus. However, according to data from Health and Human Services (HHS), there are only around 5,000 children in hospitals with confirmed COVID-19 cases, many of which are not critical or the main reason for the child's hospital visit.
Greg Price, a Senior Digital Strategist for X Strategies, highlighted more of the liberal justice's misinformation:
Justice Sotomayor during this oral arguments:

– Claimed covid deaths are at an all time high
– Claimed that Omicron has been deadlier than Delta
– Claimed 100K children are hospitalized with covid
– Said OSHA's regulatory authority is a federal "police power."

— Greg Price (@greg_price11) January 7, 2022
Sotomayor clearly fabricated this data around the Omnicron variant. This is something that no one, let alone a Supreme Court justice, should ever do. These false statements were clearly a progressive scare tactic to support and defend President Joe Biden's egregiously overreaching policies. As fact-checkers across the board have acknowledged her blunder, hopefully, Sotomayor will acknowledge and apologize for her mistake.
Copyright 2022, ConservativeInsider.org