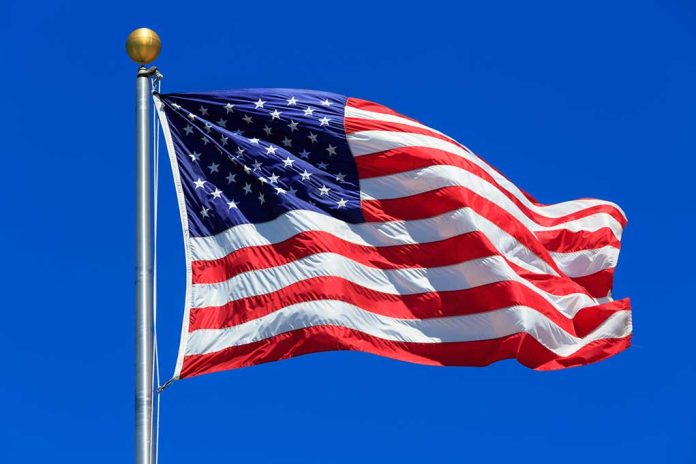 Trinity College Removes Patriotic Flags, Leaves Leftist Flags
(ConservativeInsider.org) – Many people believe colleges and universities should be places where free speech reigns, as it allows students to see and debate viewpoints far different from their own. It is through this exchange of diverse ideas that learning develops and innovation happens. However, a viral video shows that one private college in Connecticut seems to not be protecting the free speech of its students.
On Monday, October 31, the popular Twitter account Libs of TikTok shared a video of an alleged Trinity College worker removing a student's patriotic flags, stating they were violating school policy. However, there were pride flags hanging nearby, causing many to wonder if the policy was being enforced equally.
.@TrinityCollege forcibly removed a student's "don't tread on me" American Flag and a red, blue, and green line flag. Meanwhile pride flags are allowed to stay hanging. pic.twitter.com/AG892oaRyv

— Libs of TikTok (@libsoftiktok) October 31, 2022
The college later emailed its student body to remind them that objects "placed outside of" windows are not allowed under their "Window and Screen Policy." However, many other Twitter users shared photos of various leftist flags hanging around the same campus that had not been removed from their spots yet.
In response- Trinity reportedly sent out this email today telling students they can't hang things outside their windows. However the student involved sent me this photo today- transgender flags are still allowed to hang proudly. pic.twitter.com/fu1hsNZ5o7

— Libs of TikTok (@libsoftiktok) November 1, 2022
For a school that promotes itself as a home for students to express themselves freely while respectfully interacting with diverse groups, this incident seems quite out of step. As this story unfolds, Trinity College will show its true colors — whether it actually cares about free speech and student opportunities to publicly show their support for different groups and beliefs — or not.
Copyright 2022, ConservativeInsider.org