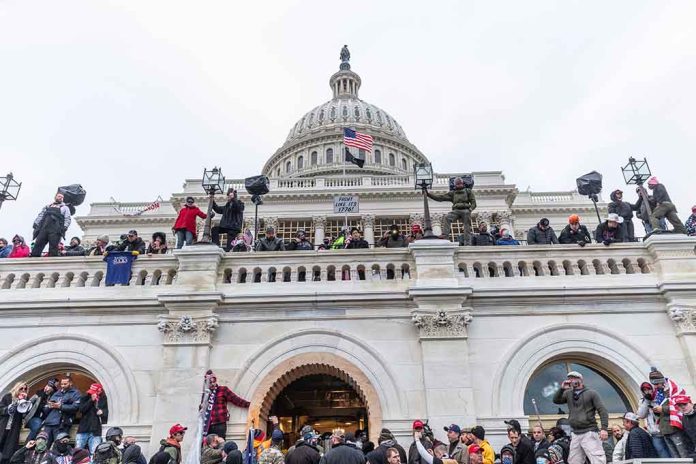 (ConservativeInsider.org) – On January 6, 2021, large numbers of protesters went past police lines and entered the US Capitol while Congress was meeting to certify the 2020 election results. Despite this happening over two years ago, Americans are still learning new information about the happenings, including a report from one former FBI official who believes there were double agents in attendance on that day.
On Wednesday, February 8, retired FBI supervisory intelligence analyst George Hill sat down with Just the News to talk about his transcribed deposition to the House Judiciary Committee. He said that during this testimony, he told Representatives the FBI looked at the banking records of Americans without evidence that they broke the law. He believes the federal agency did this simply to find people who went to Washington, DC, before January 6 or who had recently purchased a firearm.
Retired supervisory intelligence analyst George Hill blew the whistle on the FBI saying the agency used data mining from Bank of America about customers and transactions to track information on possible participants in the January 6th protest.@jsolomonReports @AmandaHead pic.twitter.com/hacVE8WmU3

— Real America's Voice (RAV) (@RealAmVoice) February 9, 2023
Hill highlighted in his interview with Just the News that the Boston FBI branch "did not take any action on those" people because there was "no evidence" of criminal activity. The former FBI analyst also told reporters that his counterparts in the DC office were upset by the Boston agents' refusal to comply with orders and pushed the demand up its chain of command.
Hill also shared during his deposition that fellow Boston FBI employees asked the Washington office for footage of January 6. The request was denied. The reason given was that the Bureau may need to "protect" certain people seen in the video. This made Hill wonder if there were undercover agents present in the Capitol that day.
House Judiciary Committee Chairman Jim Jordan (R-OH) commended Hill for his bravery to speak out about this incident and the ongoing investigation. As the House, now led by Speaker Kevin McCarthy (R-CA), continues to investigate January 6 and the Democrat-led response to that day, Americans may learn more about who was there and if the government overstepped its place when trying to bring justice to those who allegedly committed crimes that day.
Copyright 2023, ConservativeInsider.org