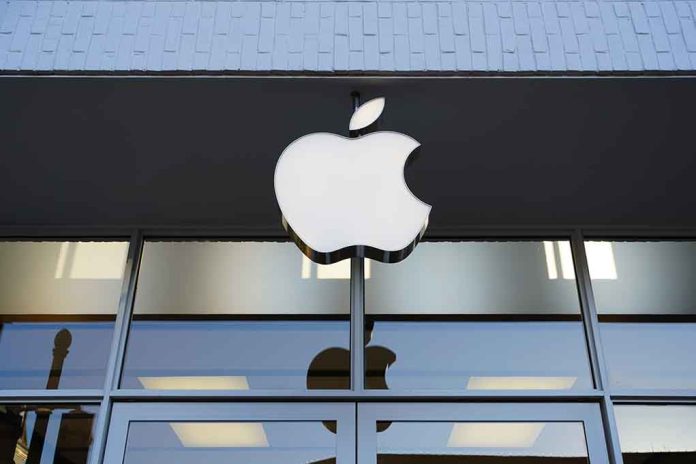 (ConservativeInsider.org) – The Department of Justice (DOJ) sometimes investigates allegations of companies engaging in anticompetitive behavior. Such tendencies lead to monopolies in the market, which, in turn, can lead to higher prices, less innovation, and no alternative products should one go bad. Since 2019, the DOJ has been looking into whether or not Apple is abusing its hold on the technological market. A new report shows the federal agency is now adding litigators to its team as it ramps up the case.
On Wednesday, February 15, the Wall Street Journal reported that people close to the DOJ investigation against Apple assured the outlet there is an uptick in a renewed focus on the case against the Big Tech behemoth. Experts are requesting new documents and consultations with companies accusing Apple of antitrust behavior.
The Justice Department has ramped up work on drafting a potential antitrust complaint against Apple, people familiar with the matter said https://t.co/9lziqhGRxZ

— The Wall Street Journal (@WSJ) February 15, 2023
Specifically, the DOJ wants to know whether iOS, the Apple operating system, makes access to its own products, such as AirTags, easier than those of other companies, like Tile. Neither the DOJ nor Apple supplied a comment for the current WSJ article.
One of the main questions surrounding this investigation is whether Mr. Jonathan Kanter, the DOJ's leading antitrust expert, will be allowed to work on the case. He previously represented multiple companies that accused Apple of blocking competition. According to the source from the WSJ, it is "likely" that Kanter will be allowed to lead the government's charge against Apple, even with his background.
In a recent interview, Yahoo Finance's Daniel Howley highlighted other antitrust issues facing Apple. He noted how the giant created Apple Wallet and AirPods, both devices that "connect seamlessly" with other products from the company. While Apple argues that this is simply the benefit of owning goods all from one business, competitors see this as a form of gatekeeping that allows Apple to prioritize its own products.
Copyright 2023, ConservativeInsider.org