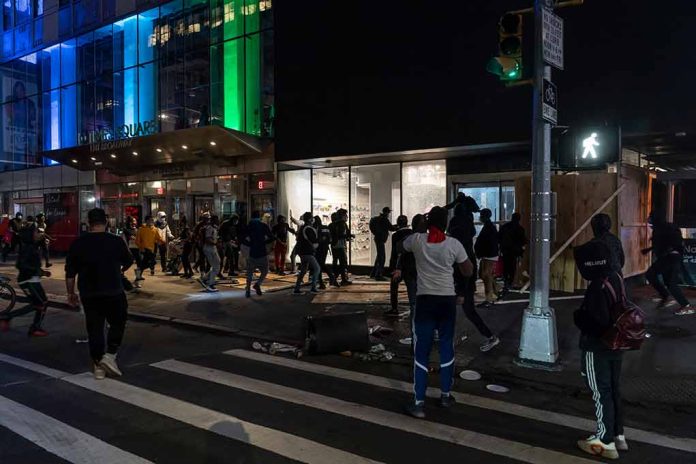 (ConservativeInsider.org) – Luxury retailer Nordstrom suffered a massive theft on August 12th when 30 people descended on a Los Angeles location and stole over $100,000 of handbags and clothing. The LAPD noted this was the second flash mob robbery in Los Angeles County last week.
Previously, the Yves Saint Laurent store in Glendale, California, was relieved of over $300,000 of merchandise in broad daylight. Like many states, California has seen a sharp increase in brazen attacks and robberies in recent years. Typically, these smash-and-grab attacks do not leave anyone injured, but in the most recent episode, there was a man sprayed with bear repellent; he was not severely injured.
The coordinated attacks are planned and organized as the assailants leave in a ready fleet of vehicles. The Mayor and LAPD are working to develop a lead and a plan to prevent future attacks.
In New York City, ice cream theft has resulted in ice cream being locked down in grocery stores. The device attached to the cartons was created just to fit on a pint of ice cream and deter theft. Gourmet ice cream is priced at $6 or more per pint, and the small packaging makes it an easy grab. Dubbed the 'pint pirates,' they aren't just stealing to abate their hunger; they sell the pints to bodegas or on the street.
Other hot ticket items, such as razors, laundry soap, and make-up, are the perennial items locked behind glass. Theft, or shrink, as the retailers call it, is costing retailers nearly $100 billion a year, and with most stores already running tight profit margins, the cost is being passed on to consumers.
Some store locations have become so prone to theft, crippled by ongoing theft and employee safety incidents, that the stores simply close. Retailers are working together to monitor technology and trends, so the future is hopeful.
Copyright 2023, ConservativeInsider.org