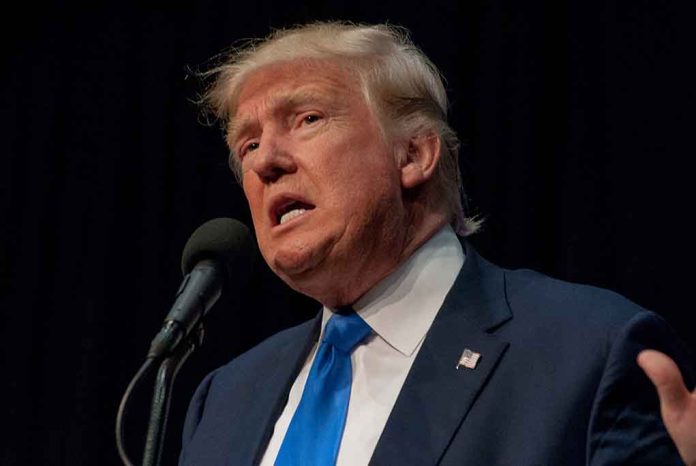 (ConservativeInsider.org) – As former President Donald Trump faces 34 various counts of falsifying business records in New York, many of his loyal supporters are expressing their disgust for the indictment. While some have shown up at Mar-a-Lago in Florida and Trump Tower in Manhattan, others are arriving at the courthouse where the 45th president recently pleaded not guilty to all charges against him. As Trump's whereabouts are now national news as he faces this lawsuit, Fox News host Jesse Watters declared that District Attorney Alvin Bragg put a target on the conservative leader's back.
Watters Raises Warning About Making Trump's Location Known
On Tuesday, April 4, Watters spoke on Fox News's "The Five" about the Trump indictment. He believes that DA Alvin Bragg and the progressives are "putting Donald Trump's life in danger" by broadcasting where the former POTUS will be during his court dates. He highlighted that New York City is full of towers and windows, implying that it is easy for a sniper wanting to kill Trump to hide.
Is Alvin Bragg's indictment a plot to physically endanger Trump?! Jesse Watters says what we're all thinking on LIVE TV

"You're putting Donald Trump's life in danger!… You think the Secret Service wants that?!"

— Benny Johnson (@bennyjohnson) April 5, 2023
Watters also asked if the Secret Service wants to have to show up to a trial every day if the case makes it that far, calling the situation "dangerous." While Trump has always been a contentious politician, there is at least one foreign adversary who wants him dead. In January 2022, Iranian President Ebrahim Raisi vowed his people would take their revenge against Trump and his Secretary of State Mike Pompeo.
Trump Is Safe Thus Far, and Conservatives Begin to Fight for Him
When Trump arrived at the Manhattan courthouse on Tuesday, April 4, while there were protesters supporting and decrying him, the event took place without any major security issues. However, the battle does seem to be spreading to Congress, where many House Republicans banded together to investigate DA Bragg and his staff.
House Speaker Kevin McCarthy (R-CA) has vowed to examine how Democrats use taxpayer money "to subvert our democracy by interfering in elections with politically motivated prosecutions." McCarthy's call for an investigation has been met by House Oversight and Accountability Committee Chair James Comer (R-KY) and House Judiciary Committee Chair Jim Jordan (R-OH), who will meet with him to figure out how to walk out their probe.
Here we go again — an outrageous abuse of power by a radical DA who lets violent criminals walk as he pursues political vengeance against President Trump.

I'm directing relevant committees to immediately investigate if federal funds are being used to subvert our democracy by…

— Kevin McCarthy (@SpeakerMcCarthy) March 18, 2023
DA Bragg's office is warning the GOP members of Congress that they are overstepping. They believe the federal legislature investigating a state prosecution is not allowed. For now, though, GOP primary candidate Trump will not appear in court again until December 4, so the parties each have some time to get their case together.
Copyright 2023, ConservativeInsider.org