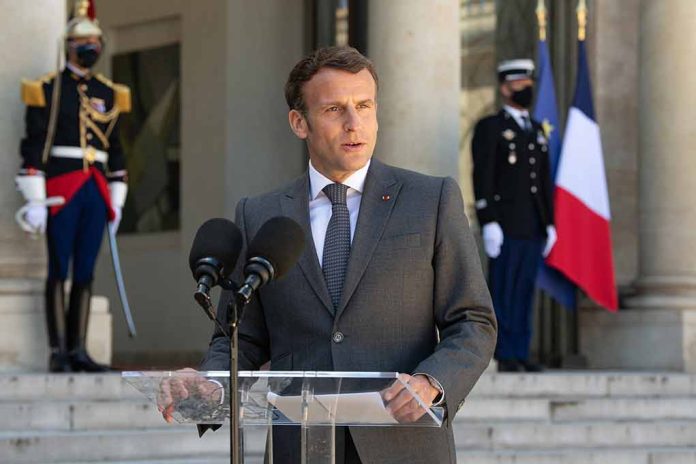 (ConservativeInsider.org) – Emmanuel Macron, the president of France, suggested this week that the already established international coalition that was created to fight the Islamic State (also known as ISIS or ISIL) in Iraq and Syria could be expanded to fight against Hamas.
President Macron made a short appearance in Jerusalem today alongside Israeli Prime Minister Benjamin Netanyahu. Macron expressed French support for the people of Israel, telling Israelis they are not alone before suggesting that the coalition against ISIS also fight against Palestinian terrorist group Hamas.
During their joint appearance, Netanyahu called Hamas "the new Nazis" and compared today's Jewish children in Israel to the Jewish children who were forced to hide during World War II, "like Anne Frank." The Israeli Prime Minister also said the fight against Hamas was "everybody's battle" because it is between the "axis of evil" and "the free world."
Macron called for a relaunch of the peace process in the Middle East, saying that Palestinians must be heard "with reason." The French President spoke of the necessity of accepting the "legitimate right" of Palestine to have their own state and territory in "peace and security."
Speaking to reporters after his appearance with Netanyahu, Macron said that the Palestinian people are not represented by Hamas, which is reflected in the fact that Hamas has not allowed an election since 2006. Macron later posted on social media that the war between Israel and Palestine is a tragedy for the people of both countries.
French officials said Macron's office was willing to discuss what could be done to tackle Hamas. They suggested the fight against ISIS and now Hamas is not only limited to ground operations, but also training counter-insurgent forces and information sharing between members of the coalition, as well as providing funding to help the fight against terrorism.
The deadly surprise attack from Hamas on October 7th left 1,400 dead, including 30 French citizens. It is believed that nine French citizens are currently being held hostage by the Palestinian terrorist group.
Copyright 2023, ConservativeInsider.org