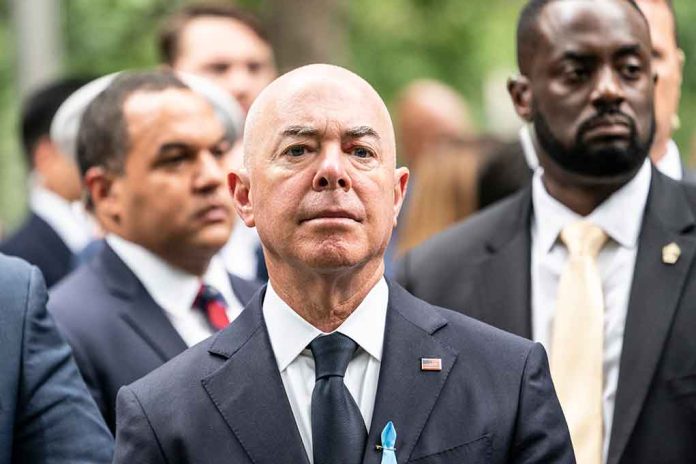 (ConservativeInsider.org) – In November 2022, then-House Minority Leader Kevin McCarthy (R-CA) asked Homeland Security Secretary Alejandro Mayorakas to resign from his position or take on an impeachment inquiry when Republicans took over the House this year. With the GOP now holding the majority lower chamber, Representative Pat Fallon (R-TX) filed a resolution to impeach the federal official, citing "high crimes and misdemeanors" as his reason.
On Monday, January 9, Fallon's submission of impeachment went to the House Judiciary Committee for consideration. The document outlined how the Texas Republican believes Mayorkas violated his commitment to the US Constitution, such as failing to maintain "operational control" over the southern border.
I have officially filed Articles of Impeachment on Secretary Alejandro Mayorkas.

— Rep. Pat Fallon (@RepPatFallon) January 10, 2023
The Articles of Impeachment claim that under Mayorkas' tenure, there has been a 180% increase in encounters at the US-Mexico border, with over 20 consecutive months of more than 150,000 illegal border crossings. With these crossings come threats to the United States and its citizens, including gang members, terrorists, and opioids like fentanyl.
In addition, the Articles of Impeachment allege that Mayorkas perjured himself before Congress when he claimed he had operational control of the border. The documents also highlighted how he once said a photo of border patrol agents on their horses with their reins flying in the air, which some people thought was an image of the agents whipping migrants, was an example of "systemic racism." This claim hurt the morale of the agents he is supposed to lead.
Impeachment is a central part of the system of checks and balances built into the US government. As these proceedings move forward, the House of Representatives will have to approve the articles with a simple majority to send them to the Senate. Then, the Senate acts as a court to hear evidence and witness testimonies before taking a vote to acquit or convict the federal official. If convicted with a two-thirds vote, the person, in this case, Secretary Mayorkas, would be removed from office.
Copyright 2023, ConservativeInsider.org