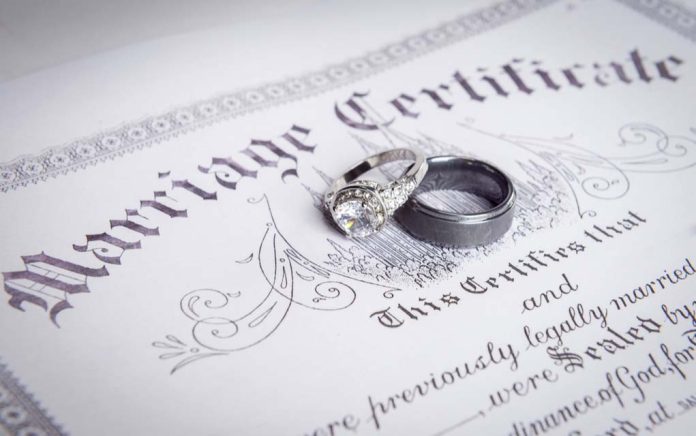 400+ GOP Lawmakers Petition To Codify These Marriages
(ConservativeInsider.org) – In 1996, President Bill Clinton signed the Defense of Marriage Act (DOMA), which declared marriage was a union between a man and a woman in the eyes of the federal government. This law also allowed states to recognize same-sex unions or reject them as their legislatures voted. However, Supreme Court (SCOTUS) decisions in the last 10 years overturned DOMA. Now, even GOP lawmakers are pushing for same-sex marriages to be codified into law.
GOP Leaders Call on the Senate to Act
On Tuesday, September 13, over 400 Republican leaders signed and released a letter asking the Senate to pass the Respect for Marriage Act. The proposed bill would allow gay and lesbian couples to marry without any uncertainty of it being reversed. The document emphasized that strong relationships are what build communities, and "civil marriage is a fundamental freedom central to individual liberty and the pursuit of happiness."
The letter also invoked the Golden Rule, asking Americans to treat others how they would want to be treated.
The Majority of Americans Support Such a Move
Americans have supported same-sex marriage for decades, and now that support is reaching record levels. In May 2021, Gallup polled Americans on a variety of values and beliefs and learned 70% of respondents believe the law of the land should recognize gay and lesbian couples as valid and provide them the same rights as marriages between a man and a woman. This number has greatly increased in recent decades. In 1997 when Gallup first asked the question, overall support was only at 27%.
The same 2021 poll showed 55% of Republicans supported the change on a federal level, and that data marked the first time the majority of right-wingers wanted such a law. Democrats currently sit around 83% support of same-sex unions.
Republicans in Support of Same-Sex Marriage
As more Republicans hope to extend the rights of marriage to all, more GOP politicians are getting on board. Dr. Mehmet Oz, the Republican nominee for a Senate seat in Pennsylvania, signed the letter, as well as Colorado Senate candidate John O'Dea. Barbara Bush — daughter of former President George W. Bush, Massachusetts Governor Charlie Baker, and Trump's pollster Tony Fabrizio have also signed the document.
If Congress codifies same-sex marriage into law, it would ensure gay and lesbian couples in the entire United States would be able to marry, and no state would be able to deny it. Do you think this is a good next step for Congress to take, or should this decision be left up to the states?
Copyright 2022, ConservativeInsider.org