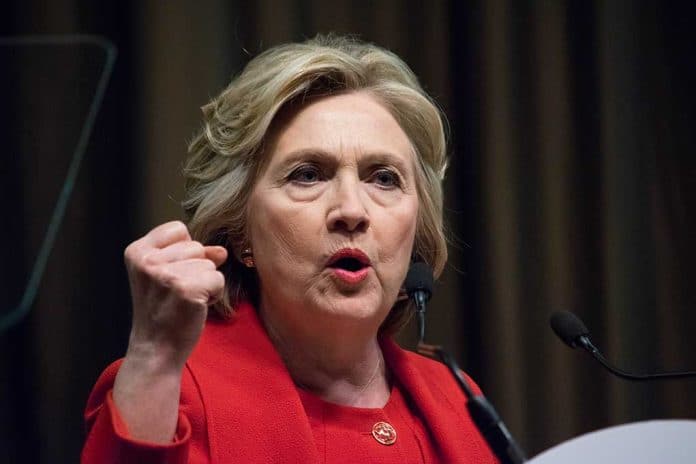 (ConservativeInsider.org) – When former President Donald Trump was running for office, his crowds often chanted, "Lock her up," when referring to Hillary Clinton. The chant was centered around the email scandal during her time as secretary of state. Recently, Hillary's campaign was accused of doing something that could actually lead to jail time for those involved – and even before it was revealed, Americans believed authorities should investigate her.
In January, the TechnoMetrica Institute of Policy and Politics conducted a poll to find out how the American people feel about Special Counsel John Durham's probe into the origins of Russiagate. The pollster told respondents that Durham has indicted campaign contractors who worked for Hillary's 2016 campaign, and asked if they believed it's important for the prosecutor to also investigate her, too.
Of the 1,308 polled, the vast majority of people across all political lines believe Durham should investigate Hillary. That includes 66% of Democrats, 91% of Republicans, and 65% of Independents. If the poll is any indication, it looks like the Durham probe might be the final nail in the Democrat's political coffin.
TIPP Poll: Most Democrats want Hillary Clinton investigated for any role in Russiagate scandal

Democrats call for Hillary Clinton to be investigated after Special Counsel Durham revealed her camp hacked Trump's White House servers to link him to Russiahttps://t.co/BHUD7TMgdF pic.twitter.com/Ayt0zfv9v9

— InteractivePolls (@IAPolls2022) February 15, 2022
The poll was conducted a month before Durham filed court documents accusing Hillary's 2016 campaign of hiring a tech company to hack servers in Trump Tower and the White House to gather information and fabricate a story about Trump. The filing suggests the 45th president was right when he accused Democrats of spying on him.
Do you think Durham should investigate Hillary?
Copyright 2022, ConservativeInsider.org